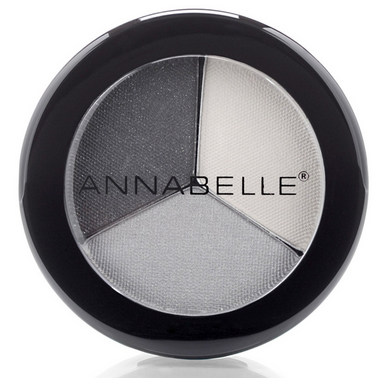 Description
Annabelle Eyeshadow Trios come in many different colours and different finishes so you're sure to find the perfect eyeshadow in the blink of an eye.
The highly pigmented powders are long-lasting and available in ultra-fine, silky textures: matte for a velvety colour, pearl for a soft shine, shimmering for a luminous and subtle shine, metallic for intense luminance.
In terms of application, this rule is simple and applies to everything! A darker shade tends to shrink the area to which it is applied, while a light shade will illuminate and broaden.
Shade Name & Descriptions:

Grafix: Dark Grey, Light Grey, White

Application Tips:
Apply a neutral shade all over the eyelid. Add a darker shade in the external corner of the eye, without going over eye crease. Blend colour outwards but stay within the general eye area. Apply the third colour – medium shade – in the internal corner of the eyes. Blend in crease with darker shade. Then, apply a lighter shade of Eyeshadow on the brow bone to make your eyes appear larger while completing the overall look.