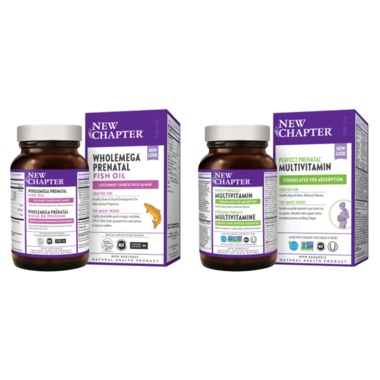 Description
This New Chapter Prenatal Bundle includes the essential supplements for mom-to-be (and baby) to get the nutrients she needs during pregnancy:
New Chapter Perfect Prenatal (96 capsules) - Whole-Food Complexed Multivitamin + Herbs + Minerals with ginger for nausea during pregnancy
New Chapter Wholemega Prenatal (90 capsules) -  Omega-Rich Fish Oil for Mother and Baby
New Chapter Perfect Prenatal Features & Ingredients:
Folate helps to reduce the risk of neural tube defects
Suitable for vegetarians
Non GMO
Certified Organic by International Certification Services, Inc., USA
Recommended Dose: Take 1 tablet with food three times daily. Take a few hours before or after taking other medications.
Ingredients:

Vitamin C (Ascorbic acid) 25mg
Calcium (Lithothamnion calcareum) (whole plant) 25mg
Iron (Ferrous fumarate) 9mg
Vitamin E (D-a-tocopheryl acetate) (9.5IU) 6.36mg AT
Vitamin B3 (Niacinamide) 6mg
Magnesium (Magnesium oxide) 5mg
Pantothenic acid (Calcium d-Pantothenate) 2.33mg
Zinc (Zinc Oxide) 2.17mg
Vitamin B6 (Pyridoxine hydrochloride) 1.67mg
Manganese (Manganese chloride) 0.87mg
Beta-carotene (1444.33IU) 866.67mcg
Vitamin B2 (Riboflavin) 0.53mg
Vitamin B1 (Thiamine) (Thiamine hydrochloride) 0.47mg
Copper (Copper sulfate) 216.67 mcg
Folate (L-5 methyltetrahydrofolate) 121.67mcg
Iodine (Potassium Iodide) 50 mcg
Folic acid (Folate) 35 mcg
Vitamin K1 (Phylloquinone) 29.33mcg
Selenium (Selenium dioxide) 23.3 mcg
Chromium (Chromium (III) chloride) 15mcg
Biotin 11.67 mcg
Vitamin D3 (Cholecalciferol) (333.33IU) 8.33mcg
Molybdenum (Sodium molybdate) 6.67mcg
Vitamin B12 (Cyancobalamin) 1mcg
Vitamin K2 (Menaquinone-7) 0.67mcg
Medicinal Herbs: Organic Oats (Avena sativa)(seed bran) 16.72mg, Ginger (Zingiber officinale)(rhizome) AqE 16:1 QCE 266.7mg 16.67mg, Turmeric (Cucuma longa)(rhizome) 12.74mg, Organic Prune (Prunus domestica)(fruit) 5.66mg, Organic Blueberry (Vaccinium angustifolium)(whole fruit) 4.61mg, Organic Blackberry (Rubus spp.)(fruit) 4.53mg, Organic Grape (Vitis vinifera)(fruit) 4.53mg, Organic Ginger (Zingiber officinale)(rhizome) SCE 18.5:1 QCE 74mg 4mg, Organic Dandelion (Taraxacum officinale)(leaf) 2.54mg, Organic Rose Hips (Rosa canina)(fruit) 2.54mg, Organic Raspberry (Rubus idaeus)(whole fruit) 2.54mg, Organic Lavender (Lavendula angustifolia)(flower) 2.54mg, Organic Lemon Balm (Melissa officinalis)(aerial parts) 2.54mg, Organic Peppermint (Mentha x piperita)(leaf) 2.54mg, Organic Clove (Caryophyllus aromaticus)(flower bud) 2.54mg, Organic Cruciferous Sprouted Seeds: Organic Broccoli (Brassica oleracea var.italica) 16.67mg, Organic Cauliflower (Brassica oleracea var.botrytis) 3.33mg, Organic Kale (Brassica oleracea var.acephala) 3.33mg, Organic Radish (raphanus sativus) 3.33mg, Organic Cabbag (Brassica oleracea var.capitata) 3.33mg, Organic Indian Mustard (Brassica juncea) 3.33mg

Non medicinal ingredients: Gum acacia, silica, mangesium stearate, shellac, carnauba wax and brown rice. Contains: Fermented Soy and Mustard.

New Chapter Wholemega Prenatal Features & Ingredients:
100% Sustainably Wild-Caught Salmon
NON GMO Project Verified
Recommended Dose: Take 4 capsules daily with water
Ingredients:

Fish Oil (Salmonlds) 1000mg.
Total Omega-3 Fatty Acids 260mg.  
EPA (Eicosapentaenoic Acid) 90mg
DHA (Docosahexaenoic Acid) 110 mg
Other Omega-3 Fatty Acids (Octadecatetraenoic Acid, Docosapentaenoic Acid, Linolenic Acid, Heneicosapentaenoic Acid, Eicosatrienoic Acid) 60 mg.  
Total Omega-6 Fatty Acids (Lionleic Acid, Arachidonic Acid, Eicosadienoic Acid) 10 mg
Total Omega-5 & 7 Fatty Acids (Myristoleic Acid, Palmitoleic Acid, Vaccenic Acid) 47.5 mg
Total Omega-9 Fatty Acids (Oleic Acid, Gadoleic Acid, Erucic Acid, Nervonic Acid) 150 mg
Astaxanthin (naturally occuring - Wild Alaskan Salmon Oil) 1.25 mcg
Vitamin D3 (50 IU) (Naturally occuring - Wild Alaskan Salmon Oil) 1.25 mcg.

Non-medicinal ingredients: Capsule (gelatin (Halal), glycerin, water), oregano extract, rosemary extract, organic sunflower oil and tocopherols) Contains: Fish.

Highlights

Shipping & Returns