Rainbow High
Rainbow High Rainbow Vision Shadow High Uma Van Hoose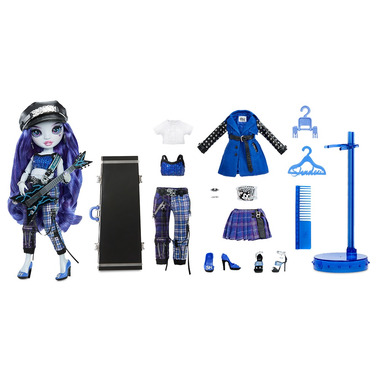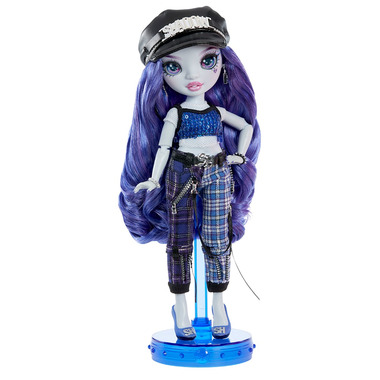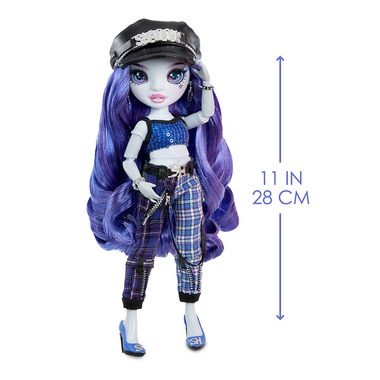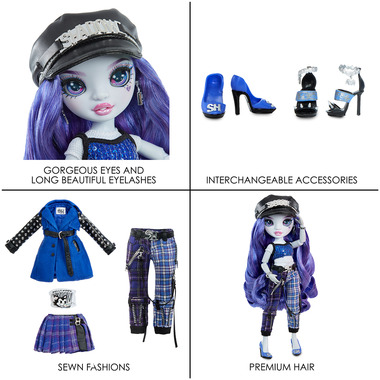 Rainbow High
Rainbow High Rainbow Vision Shadow High Uma Van Hoose
Description
All the best art schools will feature bands to compete in the world-famous Rainbow Vision music battle. The competition is heating up, and the rocking girls of Neon Shadow have their eyes on the prize. Each playset comes with a fashion doll, 2 designer outfits for mix & match and rockband instruments so every child can join the fun.

Uma had the time of her life growing up at the skate parks of Venice Beach, where she became super popular from her ability to shred on her board while she was shredding on her guitar – though her parents would get pretty upset at the number of guitars she broke with her stunt. To earn money for more guitars, Uma would play impromptu shows on the boardwalk, belting out awesome lyrics about everyone who passed by – and what they were wearing. Uma is confident and bubbly, and always there to help or hold back Harely when she gets into a fight. She's a big romantic but it mostly backfires because dudes can be intimated by her confidence – oh well, their loss. Uma can't wait to graduate from Shadow High so she can move back to LA and live in a warehouse with other artists and musicians – and the rest of the Neon Shadow. She just has to convince them LA is still punk rock!
Features
GORGEOUS FEATURES: Uma has a unique design and is dressed in neon blue and black from head to toe. She has gorgeous, detailed features in her fashion, beautiful curled hair, muted skin tone with neon blue accents, long real eye lashes and glass eyes. Collect the Rainbow of all the Rainbow Vision- Neon Shadow fashion dolls.
2 MIX & MATCH FASHION: Uma comes dressed in a sequins top over her fishnet shirt, plaid pants with molded buckles and zippers, hat with silver chain and shadow charms, and knee-high shoes with shadow graphic. She also comes with a second complete outfit for mix and match fun. Stud Jacket with belt tie, top with printed graphic, pleated plaid skirt with buckles, stud detail heels, and rocker accessories.
POSE HER ON DOLL STAND: She's fully articulated and posable, her arms and legs bend for so many glamourous poses or you can display her on the included doll stand.
WHAT'S INCLUDED: Fashion doll, two complete doll outfit, two pairs of doll shoes, doll accessories, rocker guitar+carrying case, and doll stand.
PRO TIP - WASH HAIR TO REMOVE STYLING GEL: When first unboxing the doll, you can wash her hair thoroughly to remove styling gel and let hair dry completely. Then, her hair is ready to brush.
FAVORITE COLLECTION: Collect all 3 Rainbow Vision- Neon Shadow Fashion Dolls: Mara Pinkett, Uma Van Hoose, Harley Limestone. Visit the Rainbow High Store to shop the amazing Shadow High and Rainbow High collections. #LETYOURTRUECOLORSSHINE. All fashion dolls sold separately.