T3
T3 Curl ID 32 mm Smart Curling Iron with Interactive Touch Interface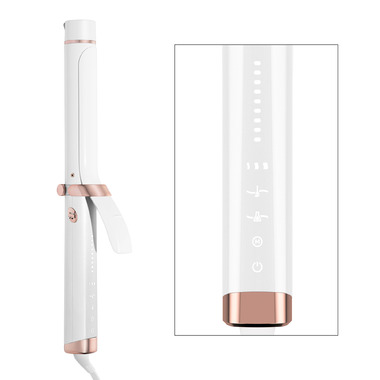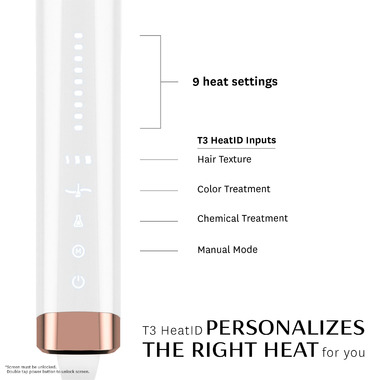 T3
T3 Curl ID 32 mm Smart Curling Iron with Interactive Touch Interface
Description
Eliminate the guess work with personalized heat. T3 Curl ID featuring T3 Heat ID delivers first-of-its-kind styling personalization with a smart touch interface and 9 precise heat settings that automatically adjust to your specific hair needs without overexposing your hair to unnecessary heat. Input your unique hair profile based on hair texture, color, and chemical treatments for optimized heat and smooth, shiny curls that last. Engineered with T3 Rapid HeatIQ technology, T3 Curl ID ensures advanced heat precision for even, consistent heat during styling. The CeraGloss ceramic barrel smooths the hair cuticle to deliver long-lasting results in one pass. An ion generator infuses millions of frizz-smoothing negative ions to lock in shine. With a lightweight body and sleek design, it ensures a truly effortless styling experience. Other features include: Comfortable thumb grip; Cool Tip & Stand; Auto World Voltage; 1 hour auto off; 2,7 m., 360° Professional Swivel Cord; 2-Year Warranty
Features:
T3 HeatID: Automatically determines your optimal heat setting based on your hair texture, color, and chemical treatment inputs
T3 Rapid HeatIQ™ Technology: Ensures advanced heat precision for beautiful results in just one pass.
9 Precise Heat Settings: Deliver personalized heat for every hair type and condition
CeraGlossTM Ceramic Barrel: For shiny, smooth curls that last
Touch Screen/Auditory Feedback: For easy and intuitive setting selection
Ion Generator: Minimizes static frizz, boosts shine, and locks in style
Manual Mode: For easy and seamless adjustment of the heat settings
Lightweight Design: For an effortless styling experience
Cool Tip & Stand: Enables easy, secure, and comfortable styling
Auto World Voltage (100-240V): For use around the world (plug adapter needed)
1 Hour Auto Off: For worry-free styling
2,7 m, 360° Professional Swivel Cord: Prevents cord from getting tangled or twisted
2-Year Warranty: Comprehensive coverage and support options
Directions:
1. Turn on/off: To turn ON, press and hold the lit power button until the tool vibrates, and lights start to cascade up. To turn OFF, first unlock the tool by quickly double tapping the power button. Then, press and hold the power button until the iron vibrates and lights start to cascade down. Note: The power button remains on while the tool is plugged in, but the tool will not heat up until turned on.
2. HeatID Mode:
a. Set your HeatID profile: Tap and toggle through each HeatID icon to input your HeatID profile:
i) Hair Texture (fine, medium, coarse)
ii) Color Treatment (color or not color-treated)
iii) Chemical Treatment (chemically or not chemically treated). Icons will stop blinking upon the first tap, and become brighter to indicate each selection.
b. Lock your HeatID profile: Double tap the power button to lock your profile. The iron will begin to heat up.
c. Ready to use: Once the iron beeps and the lights stop blinking, it is ready to use.
3. Manual Mode: If you prefer to manually adjust your heat settings, enter Manual Mode.
a. Switching to Manual Mode: Double tap the Power Button to unlock the interface. Tap the Manual Mode icon, all 9 LED's will light up and HeatID icons will disappear.
b. Adjust the temperature: Tap the top of the temperature panel to increase the heat setting or tap the bottom of the panel to decrease the heat setting.
c. Lock in your heat setting: Double tap the Power Button. The iron will begin to heat up.
d. Ready to use: Once the iron beeps and lights stop blinking, it is ready to use.
How to style:
Start with dry, detangled hair. Twist the top part of your hair out of the way and secure it with a section clip. Gather the bottom half of your hair into another clip leaving out a 2,5 - 5 cm section. Gather 5 cm section and clamp the iron halfway between the root and ends. Twist the iron away from the face, toward the roots. Turn the barrel repeatedly until all hair is wrapped around the barrel. Ensure barrel remains in a vertical position. Hold iron for a few seconds or until the heat has fully penetrated the hair section. Then gradually release the curl in a vertical position. Repeat on all sections until hair is fully styled.
Caution:
Use iron with caution, and select settings with caution. There are individual variations in how hair responds to heat. The optimal selection of settings and time to hold hair in the barrel may vary from person to person. In the first use, it is best to test at a low heat and for a short duration. If there are any adverse or unexpected effects, stop use of the iron immediately.
This product is excluded from any special promotions or coupons.
Features
T3 HeatID: Automatically determines your optimal heat setting based on your hair texture, color, and chemical treatment inputs
T3 Rapid HeatIQ? Technology: Ensures advanced heat precision for beautiful results in just one pass.
9 Precise Heat Settings: Deliver personalized heat for every hair type and condition
CeraGlossTM Ceramic Barrel: For shiny, smooth curls that last
Touch Screen/Auditory Feedback: For easy and intuitive setting selection
Ion Generator: Minimizes static frizz, boosts shine, and locks in style
Manual Mode: For easy and seamless adjustment of the heat settings
Lightweight Design: For an effortless styling experience
Cool Tip & Stand: Enables easy, secure, and comfortable styling
Auto World Voltage (100-240V): For use around the world (plug adapter needed)
1 Hour Auto Off: For worry-free styling
2,7 m, 360? Professional Swivel Cord: Prevents cord from getting tangled or twisted
2-Year Warranty: Comprehensive coverage and support options