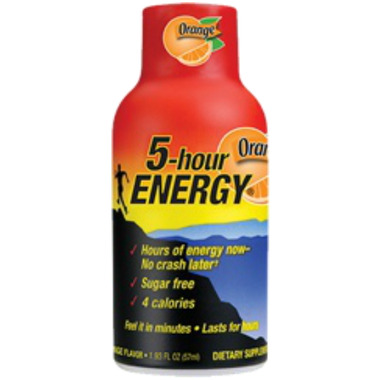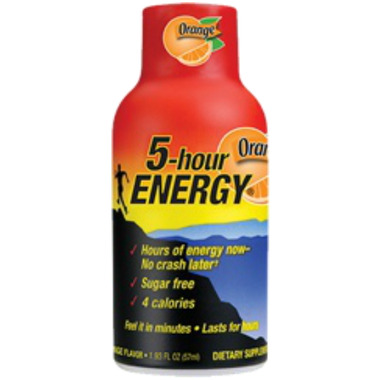 5-hour Energy shots are light, portable and an effective product that quickly became the no nonsense way for working adults to stay bright and alert. It's packed with B-vitamins and amino acids. It has zero sugar, zero herbal stimulants and four calories.
Ingredients: Purified Water, Natural and Artificial Flavours, Sucralose, Potassium, Sorbate, Sodium Benzoate, and EDTA. Vitamins: Vitamin B6, Vitamin B12, Niacin (Vitamin B3), and Folic Acid (Vitamin B9) Energy Blend: Citicoline, Tyrosine, Phenylalanine, Taurine, Malic Acid, Glucuronolactone, and Caffeine
Recommended Use: Drink one half (1/2) bottle for moderate energy. Drink one whole bottle for maximum energy. Do not exceed two bottles of 5-hour Energy shots daily, consumed several hours apart. Use or discard any remainder within 72 hours (three days) after opening. Refrigeration not required.