Abundance Naturally Baby Belly Butter Skin Salve
For Expectant Mothers
90 g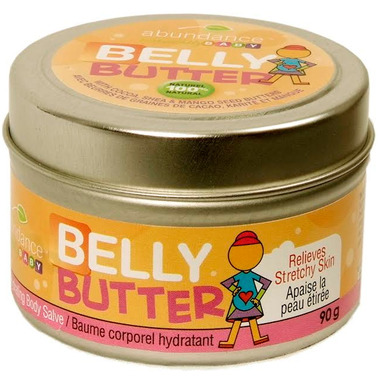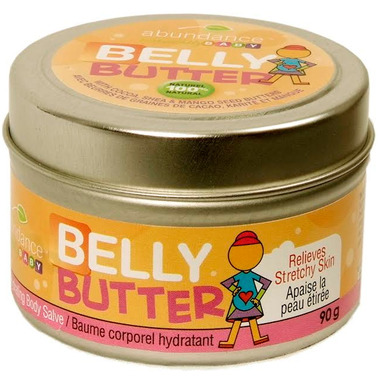 Abundance Naturally Baby Belly Butter Skin Salve
For Expectant Mothers
90 g
Carrier Oils of Grape Seed, Sunflower and Flax combine with Cocoa, Shea and Mango Seed butters for an emollient, nourishing and moisturizing therapeutic salve for expectant moms. Apply on dry, itchy skin, stretch marks on belly, and around breasts to heal cracked nipples.

Abundance Naturally Baby Belly Butter is made with:
Cocoa butter - flaxseed, rosehip and vitamin E oils - are all known to help reduce stretch marks
Shea, Cocoa, Mango Seed butters - moisturizing, emollient, reduces the formation of stretch marks and rejuvenates skin; rich in EFA's containing natural anti-oxidants and promote cell regeneration
Vitamin E - protective/preserving/skin cell rejuvenating properties
Essential Oils of Lavender - Ylang Ylang and Balsam Peru Oil – aromatic and promote calmness and moisturize

Ingredients:
vitis vinifera (grape) seed oil, helianthus annuus (sunflower) seed oil, linum usitatissum (flax) seed oil, rosa rubiginosa (rosehip) oil, beeswax, theobroma cacao (cocoa) butter, butrospermum parkii (shea) butter, mangifera indica (mango) seed butter, tocopherol (vitamin e),citrus bigarradia (orange) leaf oil, lavendula angustifolia (lavender) oil, cinnamomum camphora (ho wood) oil, cananga odorata (ylang ylang) flower oil and myroxylon perierae (balsam peru) oil.