Adrien Gagnon Feminex Anti-Migraine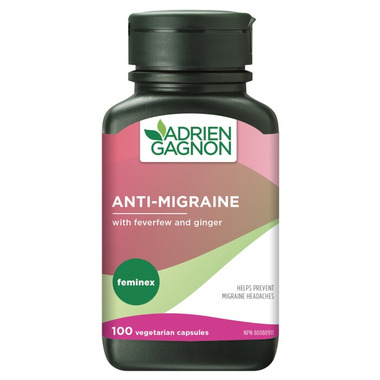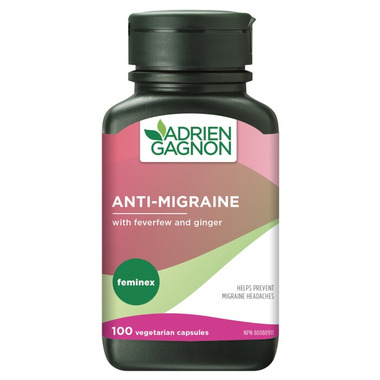 Adrien Gagnon Feminex Anti-Migraine
This Feverfew and Ginger based supplement for women helps prevent and reduce the intensity of migraines.
Features:

Helps to prevent migraine headaches.
Helps reduce the severity and / or frequency of migraine.
headaches and associated symptoms such as nausea and vomiting, when taken as a prophylactic.
Ginger is used in Herbal Medicine to aid digestion.
REASONS FOR TAKING THIS PRODUCT?
Everybody already had a headache. What you feel is not explained by words. This is migraine!!
Migraine is a debilitating disorder characterized by pulsatile headaches accompanied by nausea and vomiting.
Ten percent of the population suffers from migraine, which degrades the quality of life.
Feverfew is well-known in Herbal Medicine for its effectiveness against migraine by helping to reduce its severity and frequency.
As migraines are often related to digestion, Feminex Migraine is supplemented with ginger for a double action.
Who will benefit from this product?
For people with migraine headaches.
For people who suffer from headaches.
For people who suffer from migraines accompanied by vomiting and nausea.
Dosage: Adults: Take 1 capsule daily, with or after food. Reduce the dosage gradually if treatment is to be paused or discontinued.

Ingredients:

Each capsule contains:
Feverfew [Tanacetum parthenium] (herb top) 4:1 extract equivalent to 250 mg of dried herb : 62,5 mg
Ginger [Zingiber officinale] (rhizome) 10:1 extract equivalent to 500 mg of dried rhizome : 50 mg
Use for a minimum of 4-6 weeks to see beneficial effects.
Caution:

Do not use if you are allergic to plants of the Asteraceae / Compositae / Daisy family or if you are pregnant.Consult a health care practitioner for use beyond 4 months or if symptoms persist or worsen.
Consult a health care practitioner prior to use if you are breastfeeding or if you are taking blood thinners.
Some people may experience sore mouth, mouth ulcers and/or gastrointestinal discomfort.
Hypersensitivity (allergy) has been known to occur; in which case, discontinue use.