Adrien Gagnon Feminex Anti-Wrinkles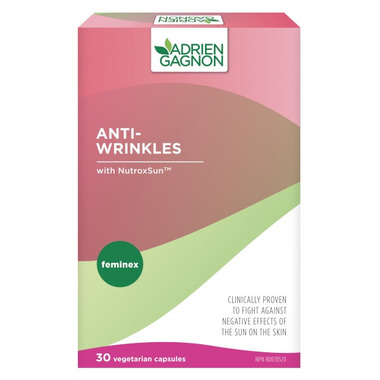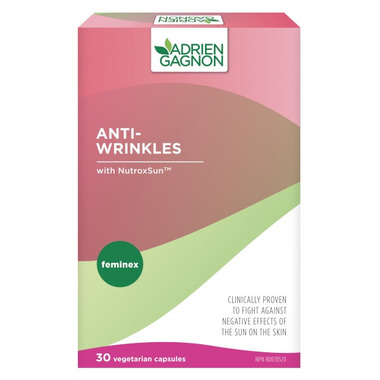 Adrien Gagnon Feminex Anti-Wrinkles
A formula that helps reduce wrinkles caused by the sun.
Features:

Helps reduce wrinkle depth and increase skin elasticity.
Helps to improve the skin's response to small amounts of oxidative stress induced by sun rays (UV).
Provides antioxidants.
Grapefruit and rosemary act synergistically against skin damage caused by UV rays and free radicals.
Helps maintain the vitality of mature skin cells.
It is a 100% natural product that helps to maintain the skin's youthfulness.
REASONS FOR TAKING THE PRODUCT?
The sun and its UV rays are responsible for the premature aging of the skin, which is manifested by its hardening and the appearance of wrinkles.
Feminex Anti-wrinkles offers you NutroxSunTM, a formula composed of grapefruit and rosemary.
Clinically proven, NutroxSunTM helps reduce the depth of wrinkles and increase skin elasticity.
Helps reduce the effects of UV induced oxidative stress.
Provides antioxidant.
Vegan ingrédients.
Who will benefit from this product?
All skin types.
For people who are exposed to the sun.
For people looking to protect their skin from damage caused by UV rays.
Dosage: Adults: Take 2 capsules daily.

Ingredients:

Each capsule contains:
NutroxSunTM : 50 mg
Providing:
Grapefruit [Citrus paradisi] (fruit) 50:1 extract equivalent to 1250 mg of dried fruit : 25 mg
Rosemary [Rosmarinus officinalis] (leaf) 20:1 extract equivalent to 500 mg of dried leaf : 25 mg
Caution:
Consult a health care practitioner if symptoms persist or worsen.
Consult a healthcare practitioner prior to use if you are pregnant or breastfeeding or taking any prescription medication.
This product does not intend to replace the need to apply sunscreen and/or to follow effective sun protection measures.
Spending time in the sun increases your risk of sunburn, skin cancer and early skin aging.