Adrien Gagnon Feminex Preventive Cranberry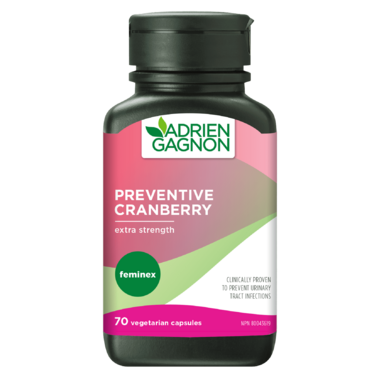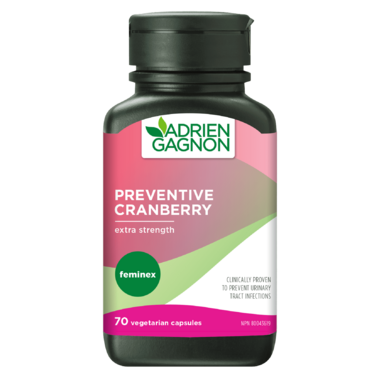 Adrien Gagnon Feminex Preventive Cranberry
Adrien Gagnon Feminex Preventive Cranberry helps prevent reoccurring bladder and urinary tracts infections (UTI) and helps reduce the symptoms caused by such infections.

REASONS FOR TAKING THIS PRODUCT?
Cranberries contain proanthocyanidins, which can prevent the adhesion of bacteria to the urinary tract mucus walls. These bacteria are therefore easily eliminated through urine
Clinical trials have confirmed the effectiveness of cranberry extract in recurrent urinary tract infections
WHO WILL BENEFIT FROM THIS PRODUCT?
For everyone who tend to have chronic urinary infections especially women
Adult Women: Take 2 capsules daily. Use at least for 4 weeks to notice beneficial effects.
Each capsule contains:

Cranberry [Vaccinium macrocarpon] (berry): 250 mg
Concentrated extract (50:1) equivalent to 12 500 mg of fresh cranberries
Consult a health care practitioner prior use if you take anti coagulants or suffer from kidney stones. Consult a health care practitioner if the symptoms persist.