Adrien Gagnon Multi Effervescent Powder Mixed Berries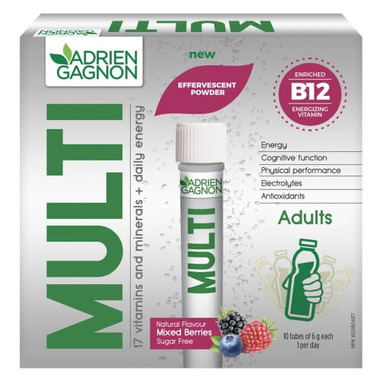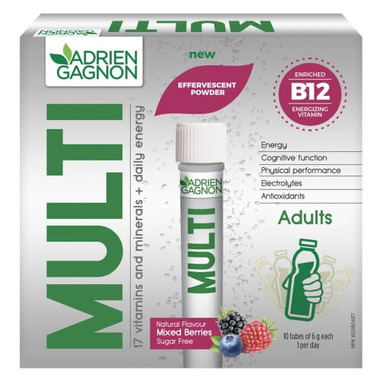 Adrien Gagnon Multi Effervescent Powder Mixed Berries
With 17 vitamins and minerals, these tubes provide you with energy throughout your day. Caffeine and sugar free, this powdered formula will bring physical and mental energy to help you get through your daily activities.
Features:

Helps in energy production and metabolism.
Helps to maintain cognitive function.
Helps to maintain proper muscle function, including the heart muscle.
Provides electrolytes and antioxidants.
REASONS FOR TAKING THIS PRODUCT?
Vitamin B12 helps the formation of red blood cells that bring oxygen throughout the body. It promotes energy metabolism and production, both physical and mental all day.
With its 17 vitamins and minerals, Multi Effervescent Powder offers an effervescent energy drink with no caffeine, no taurine, no sugar and no preservatives.
One tube per day, for sustained daily energy.
Who will benefit from this product?
For people whose cognitive functions (memory, attention, language, executive functions and visual-spatial functions) are solicited.
For people who want a source of energy from vitamins and without caffeine.
For people who want a supplementation of vitamins and minerals in addition to promote mental performance.
Dosage: Adults: Take 1 tube daily. Mix with 500mL of water. Take with food a few hours before or after taking other medications or natural health products.

Ingredients:

Each tube (6 g) contains :
Vitamin B1 (thiamine mononitrate) : 5 mg
Vitamin B2 (riboflavin) : 5 mg
Vitamin B6 (pyridoxin HCl) : 5 mg
Vitamin B12 (cyanocobalamin) : 1000 mcg
Niacinamide : 10 mg
Pantothenic acid (d-calcium pantothenate) : 5 mg
Folic acid (folate) : 150 mcg
Vitamin C (ascorbic acid) : 500 mg
Vitamin E (d-alpha-tocopheryl acetate) : 10 mg AT
Biotin : 300 mcg
Calcium (carbonate) : 65 mg
Chromium (chloride) : 100 mcg
Copper (citrate) : 250 mcg
Magnesium (oxide) : 150 mg
Manganese (sulfate) : 1 mg
Potassium (bicarbonate) : 200 mg
Zinc (oxide) : 10 mg
Caution:

Do not use with other potassium-containing supplements or with potassium-containing salt-substitutes.

Consult a health care practitioner prior to use if you are pregnant or breastfeeding.