Adrien Gagnon Probiox 3 Kids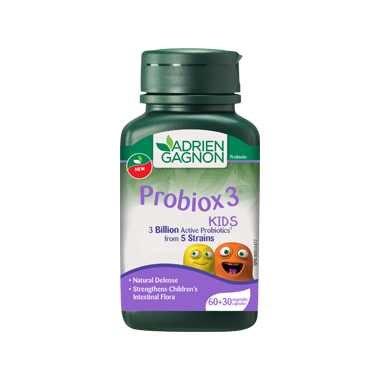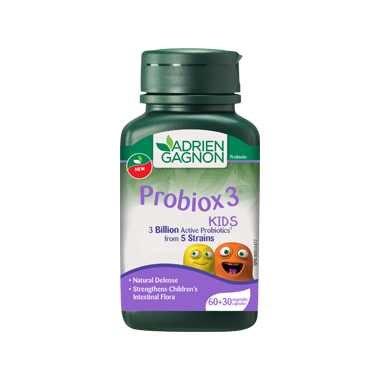 Adrien Gagnon Probiox 3 Kids

- We're sorry, this product is no longer available!
- Shop for other products in: Probiotics

Adrien Gagnon Probiox 3 Kids, with 3 billion active probiotics provides live probiotics to help support intestinal health.
To whom is this product recommended?


Children: this product can be taken by children as young as 6 years old. Probiox 3 can strengthen a child's immune system, especially during gastro season.
Probiox 3 can also be used for children suffering from diarrhea and/or constipation.
During antibiotic treatment: take probiotics at least 2 hours apart from antibiotics and continue taking probiotics for 2 weeks after the ending the antibiotic treatment.
Other characteristics of the product:
Small, easy to swallow capsules
Capsules can also be easily opened and content mixed with puree, milk or yogurt for children having difficulty swallowing capsules or for children that are too young to take capsules
Benefits & Recommended for:


Live probiotics are friendly bacteria that naturally colonize in the intestinal tract. Their role is to help with digestion and regularity, as well as to protect against invasion of the intestinal wall by pathogens. Live probiotics are thus part of the body's natural defense.

Dosage:
Adolescents and children 6 years and above: 1 - 3 capsules daily. For young children, open the capsule and empty content in milk or yogurt to avoid choking risks.
Medicinal ingredients
Each capsule contains:
Live probiotics:
Lactobacillus rhamnosus 1.8 billion cfu*
Lactobacillus paracasei 1.1 billion cfu
Lactobacillus acidophilus 0.03 billion cfu
Streptococcus thermophilus 0.02 billion cfu
Lactobacillus bulgaricus 0.004 billion cfu
*cfu : colony-forming units
Precautions & Adverse Effects:
Do not use if you are experiencing nausea, fever, vomiting, bloody diarrhoea or severe abdominal pain. Do not use if you have an immune-compromised condition (e.g. AIDS, lymphoma, patients undergoing long-term corticosteroid treatment). Discontinue use and consult a healthcare practitioner if symptoms of digestive upset (e.g. diarrhoea) occur, worsen, or persist beyond 3 days.
Note:
May have been in contact with milk or soya. Do not use if you are allergic to milk or soya.
Canadian Brand, Non-GMO, Peanut free product, tree nut free product, natural

Please be advised that Well.ca follows manufacturer guidelines for storing & shipping probiotics.