Adrien Gagnon Silver Energex+ 50+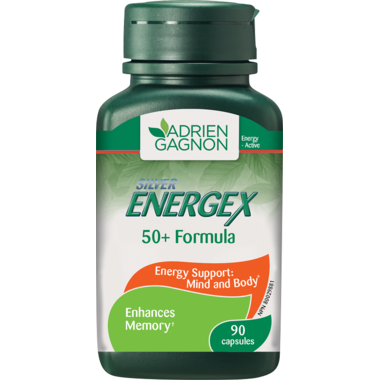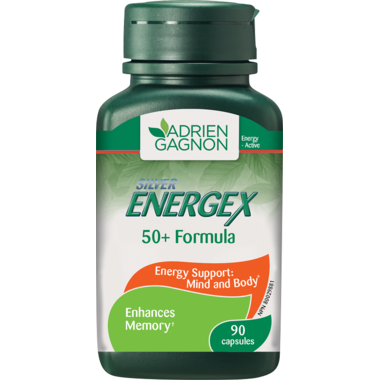 Adrien Gagnon Silver Energex+ 50+
- We're sorry, this product is no longer available!
- Shop for other products in: Energy & Endurance

Adrien Gagnon Silver Energex+ 50+ gives you phyisical and metal energy. It is recommended for intellectual work, sustained mental effort in people 50 years and above.

Benefits & Recommended For:
Intellectual work, sustained mental effort in people 50 years and above
Lowering of energy levels
Long-term fatigue
Low resistance to stress
Adaptogenics such as Siberian ginseng and rhodiola help the body face mental and physical stress - These plants decrease the sensation of fatigue, thereby allowing a sustained effort over a longer period of time
Ginkgo biloba is recognized for its positive action on memory - Moreover, ginkgo improves blood circulation in the brain, which supplies a maximum of nutrients and oxygen to the neurons for optimal functions

Dosage:
Adults: Take 1 capsule twice daily with a meal.

Medicinal ingredients:
Each capsule contains:
Siberian ginseng [Eleutherococcus senticosus] (root) Concentrated 10:1 extract equivalent to 1,000 mg of dried root. 100 mg
Rhodiola [Rhodiola rosea] (root) Extract standardized at 3% rosavins and 2% salidroside. 100 mg
Ginkgo [Ginkgo biloba] (leaf) Concentrated 50:1 extract equivalent to 3,000 mg of crude dried leaves and standardized at 24% ginkgo flavone glycosides and 6% terpene lactones. 60 mg
Precautions & Adverse Effects:
Do not use if you have high blood pressure or if you are taking health products that affect blood coagulation (e.g. blood thinners, clotting factor replacements, acetylsalicylic acid, ibuprofen, fish oils, vitamin E) as this may increase the risk of spontaneous bleeding.
Canadian Brand, Non-GMO, Gluten free, Dairy Free, Peanut free product, Tree nut free product, natural