Adrien Gagnon Ultra Energex+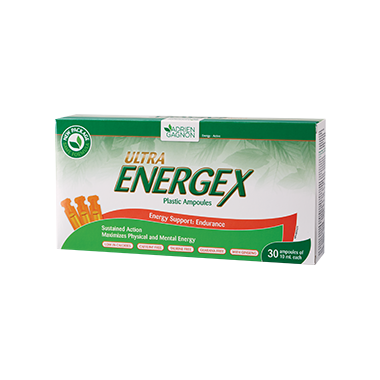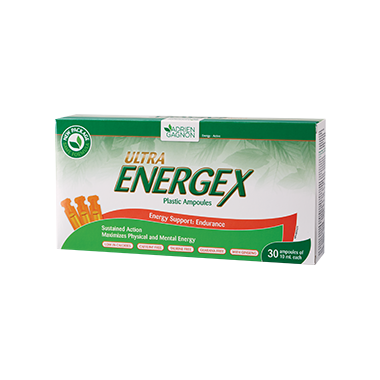 Adrien Gagnon Ultra Energex+
- We're sorry, this product is no longer available!
- Shop for other products in: Energy & Endurance

Adrien Gagnon Ultra Energex+ is an energizing tonic that fights fatigue and helps increase resistance to stress. With its fast and sustainable action it can help increase physical performance.

Benefits & Recommended for:
Formulated for physically active people or those who must sustain physical effort over an extended period of time
It is also used in case of: Elevated physical stress, lack of physical energy
Dosage:
Adults: Take one ampoule daily, diluted in half a glass of water or fresh juice. Because certain ingredients are highly concentrated, a small deposit may occur in the ampoule. This does not affect quality. Shake well before using.

Medicinal ingredients:Each 10 ml ampoule contains:
Siberian ginseng [Eleutherococcus senticosus] (rhizome) Concentrated extract 50:1 equivalent to 1,000 mg of whole dried rhizome 20 mg
Maca [Lepidium meyenii] (root) Concentrated extract 4:1 equivalent to 1,000 mg of whole dried root 250 mg
Cordyceps [Cordyceps sinensis] (mushroom) Concentrated extract 8:1 equivalent to 500 mg of dried mycelia 62.5 mg
Roseroot [Rodhiola rosea] (root) Concentrated extract 3% in rosavin 25 mg
Puncture vine [Tribulus terrestris] (fruit) Concentrated extract 18:1 equivalent to 100 mg of whole dried fruit 5.5 mg
Precautions & Adverse Effects:
Do not use if you are pregnant, breastfeeding or if you have high blood pressure. Consult a healthcare practitioner prior to use if you have any type of acute infection. Consult a healthcare practitioner if symptoms persist or worsen.
Canadian Brand, Non-GMO,Gluten free, Dairy Free, Peanut free product, Tree nut free product