Adrien Gagnon Valerian Mild Sedative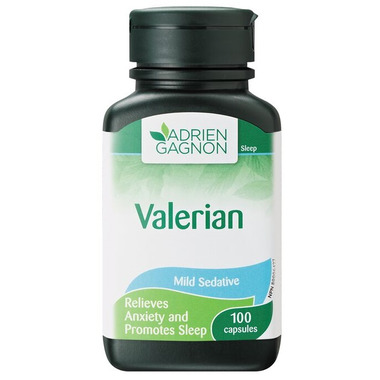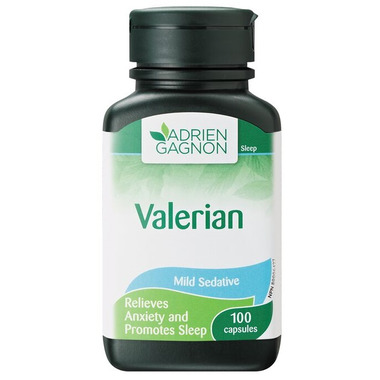 Adrien Gagnon Valerian Mild Sedative
Valerian supplements like Adrien Gagnon Valerian can be used as a mild sedative and sleep-promoting agent. Helps in cases of insomnia and nervousness.

Benefits & Recommended for:
Nervousness
Insomnia
Anxiety
Lack of sleep
Nervous and muscle spasms, heart palpitations due to stress
Dosage:
Adults: Take 2 capsules 3 times daily (2 capsules at each meal).
Medicinal ingredients:Each capsule contains:
Valerian [Valeriana officinalis] (root) 185 mg
Valerian [Valeriana officinalis] (root) Extract 5:1 standardized to 0.8% valerenic acid and equivalent to 325 mg of crude dried root 65 mg
Precautions & Adverse Effects:
Consult a healthcare practitioner if sleeplessness persists continuously for more than 3 weeks (chronic insomnia) or if symptoms persist or worsen
Consult a healthcare practitioner prior to use if you are pregnant or breastfeeding
Exercise caution if operating heavy machinery or driving a motor vehicle within 2 hours of consumption
Consumption with alcohol, other drugs or natural health products with sedative properties is not recommended
Canadian brand, Gluten free, Non-GMO, dairy free, peanut free product, tree nut free product, Natural




Jen:
a few months ago
As with all Valerian, this has a bit of a funny taste and aftertaste even as a pill (I've also tried the drops), so I tend to follow it or take it with a few spoonfuls of unsweetened applesauce or yogurt to avoid the weird valerian breath.

Seems to work to help me chill out before bed as well as sleep longer, as long as I take the two recommended pills; one is more of a light calmative support.

Sometimes the dose hits me harder than others (diet? hydration?), so I definitely don't drive or operate heavy machinery if I've taken two! Does seem to react funny with alcochol (little/no calmative effect but dumbs my brain, and I think has some digestive effects -- I missed that part of the warning before), so watch out for that, too. So really, just treat it like an actual pharmaceutical sleeping pill, especially at full dose.
Page
1