Age Quencher Rejuvenate Beauty Protein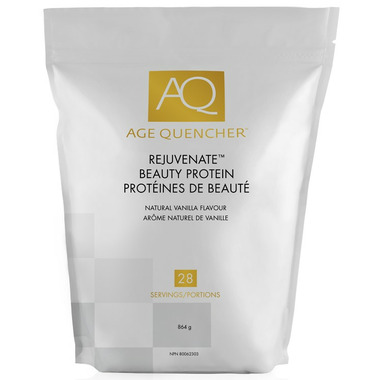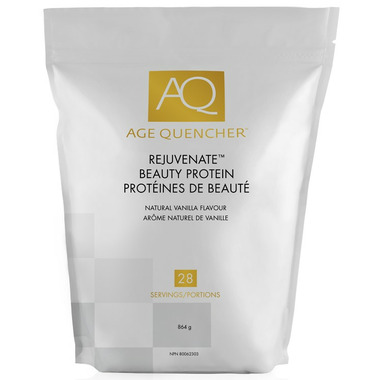 Age Quencher Rejuvenate Beauty Protein
Rejuvenate Beauty Protein: infused with 3300mg of Marine Collagen and Silica to promote skin elasticity, healthy aging, lustrous hair and manicure worthy nails. Perfectly blended to support joint health while decreasing inflammation in the body.
This versatile product supports digestive and immune health via added fibre and a full spectrum probiotic. Promotes healthy weight management. Naturally vanilla flavoured boasting 20 grams of protein per scoop with under 2 grams of carbs per serving.

Features and Benefits:
Promotes a smoother, even complexion
Strengthens hair and nails
Supports healthy digestion
Excellent source of fibre and probiotics
Reduces joint pain due to arthritis
Dosage:
Mix one scoop daily with 8-10 ounces of water or other liquid. Blend well. Tastes great in a smoothie!

Ingredients:
Hydrolyzed Collagen, Grass Fed Antibiotic Free Whey Protein Isolate, Inulin, Vitamin C, Silica, Probiotics (Lactobacillus Rhamnosus (HA-111), Lactobacillus Plantarum (HA-119), Lactobacillus Casei (HA-108), Lactobacillus Acidophilus (HA-122), Bifidobacterium longum subsp. longum (HA-135), Bifidobacterium longum subsp. Infantis (HA-116), Bifidobacterium breve (HA-129), Bifidobacterium bifidum (HA-132)), Natural Vanilla Bean Flavour, Stevia.