AllKiDz Probiotic Complete (Drink mix)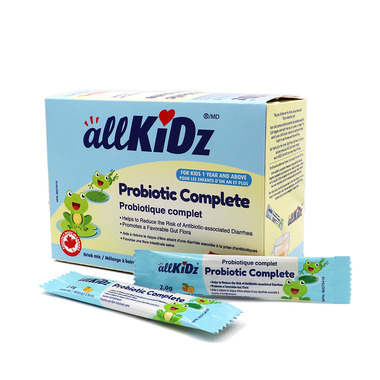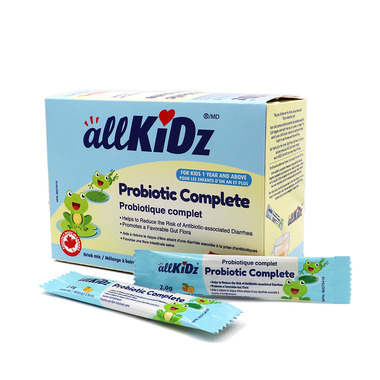 AllKiDz Probiotic Complete (Drink mix)
3 scientifically-proven strains to help reduce occasional tummy troubles
Promotes a favorable gut flora
Helps to reduce the risk of antibiotic-associated diarrhea
At least 20 billion live active bacteria per strip at the time of manufacture
Easy-to-use powder strips. No refrigeration required
Prebiotics included (FOS, inulin) for better effects
Refreshing orange flavour
Benefits:
Helps to Reduce the Risk of Antibiotic-associated Diarrhea
Promotes a Favorable Gut Flora'
Application:
Children 1 year and above: 1 strip 1 time per day.
Ingredients:
Lactobacillus acidophilus (whole cell) 125Million CFU
Lactobacillus rhamnosus (whole cell) 125Million CFU
Bifidobacterium animalis subsp. lactis (whole cell) 250Million CFU'
Non-medicinal ingredients: Maltodextrin, Fructooligosaccharides, Inulin, Orange Flavour (Concentrated Orange Juice)
Caution:
If you have fever, vomiting, bloody diarrhoea or severe abdominal pain, consult a health care practitioner prior to use. If symptoms of digestive upset (e.g. diarrhea) occur, worsen, or persist beyond 3 days, discontinue use and consult a health care practitioner.
Do not use if you have an immune-compromised condition (e.g. AIDS, lymphoma, patients undergoing long-term corticosteroid treatment).'
Please be advised that Well.ca follows manufacturer guidelines for storing & shipping probiotics.