Allmax Hexapro Protein Creamy Vanilla Milkshake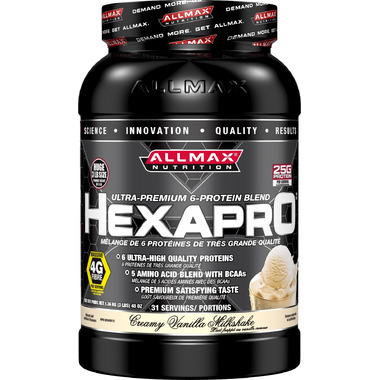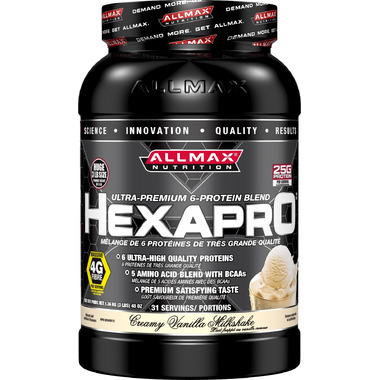 Allmax Hexapro Protein Creamy Vanilla Milkshake
Allmax Hexapro's 6 highly-bioavailable proteins are fast, medium and sustained release proteins that ensure high amino acid levels with both short and long term delivery. Each Protein has been carefully selected to achieve maximum protein assimilation and absorption. Allmax Hexapro is also fortified with 5 Amino Acids to enhance recovery, including all 3 BCAAs essential for protein synthesis and providing a rapid energy source for muscles.
Allmax Hexapro has a truly rich, thick milkshake-worthy taste that will make you re-think Protein. Delicious and satisfying taste, Allmax Hexapro creates an experience that will make you fall in love with Protein all over again. With taste like this, you will want to make Allmax Hexapro a part of your daily routine. Getting your Protein fix with this kind of regularity will help you achieve any goal.
Ingredients:
HEXAPRO 6-Protein Blend (Whey Protein Concentrate [WPC 80%, Cold-Temperature Processed, Cross-Flow Microfiltered], Milk Protein Isolate [80% Casein: 20% Whey], Whey Protein Isolate [WPI 90%, Cold-Temperature Processed, Cross-Flow Microfiltered], Micellar Casein [MC 90%, Undenatured], Egg Albumin, Hydrolyzed Whey), HEXAPRO AminoPlex (L-Glycine, L-Tauring, L-Leucine, L-Isoleucine, L-Valine), HEXAPRO Suspension Matrix (Maltodextrin, Fibersol-2, Inulin, Xantham Gum, Cellulose Gum, Carrageenan), HEXAPRO Lipid Fuel (Sunflower Oil, Soy Oil, High-MCT Coconut Oil, CLA [Conjugated Linoleic Acid], High-Omega3 Flax Seed Oil).
Other Ingredients:
Natural and Artificial Flavours, Sodium Chloride, Acesulfame Potassium, Sucralose
Allergen Information:
Contains Protein derived from Milk and Egg; contains Lecithin derived from Soy (less than 1%) and Wheat. Produced in a facility that also handles peanut, tree nut, fish, crustacean and shellfish products.