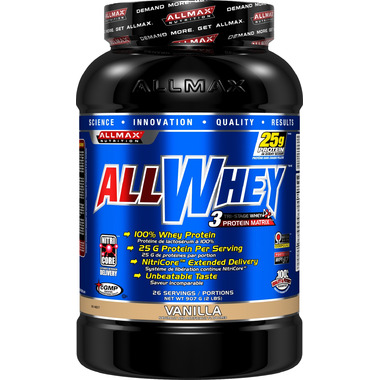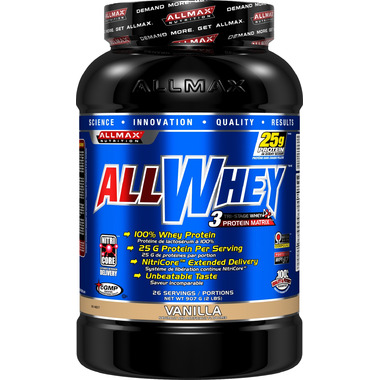 Looking for a protein that tastes good, will help you reach your goals, all while being economical? Well, AllWhey delivers it all! AllWhey combines the latest innovations in whey protein and delivers 100% whey protein per serving, which is made possible through a new extraction technology, called NitriCore

NitriCore is a new 3-Stage extended protein delivery system that ensures 100% Whey Protein is extracted to deliver a high-quality source of whey protein per serving.The NitriCore delivery technology helps to dramatically increase levels of nitrogen retention in muscle tissue. Increased nitrogen retention ensures that rapid muscle building can take place in response to increased training and helps to ensure that precious muscle tissue is not lost during recovery.
Supplement Facts:

Serving Size: 1 scoop (31g)
Servings Per Container: 29

Amount Per Serving % Daily Value*

Calories 120
Calories from Fat 10

Total Fat 1 g 2%
Saturated Fat 0.5 g 3%
Trans Fat 0 g †
Cholesterol 30 mg 10%
Sodium 55 mg 2%
Potassium 125 mg 4%
Total Carbohydrates 3 g 1%
Dietary Fiber 1 g 4%
Sugars 1 g †
Protein 25 g 50%
Vitamin A 0%
Vitamin C 0%
Calcium 6%
Iron 0%
INGREDIENTS: Tri-Stage Whey Protein Matrix™ [WPC80™ (Microfiltered Whey Protein Concentrate [80%]), WPI90™ (CTP™ Whey Protein Isolate [90%]), WPI97™ (Hydrolized Ultra Filtered Whey Protien Isolate (Low Molecular Weight Whey Peptides)], Tri-Amino Recovery Blend (Taurine, Glycine, Creatine Monohydrate), Omega EFA™ (Cold-Pressed Flaxseed Oil Powder, Borage Oil (GLA), Conjugated Linoleic Acid (CLA)), DIGESTOL™ (Lactase (Lactose Reducing Enzyme), Bromelain (Protein Digesting Enzyme), Protease (Protein Digesting Enzyme), Alpha-Amylase).

OTHER INGREDIENTS: Oat fiber, Soy Lecithin, Natural and Artificial Flavors, Xanthan Gum, Acesulfame Potassium and Sucralose.

ALLERGEN INFORMATION: Contains Protein derived from Milk and Lecithin derived from Soy (less than 1%). Produced in a facility that also handles Egg, Peanut, Tree Nut, Fish, Crustacean & Shellfish products.

* Percent daily values are based on a 2000 calorie diet
† Daily Value not established
Supplement facts vary based on size and flavor.