Always Discreet Regular Length Incontinence Pads
Maximum Protection
48 Pads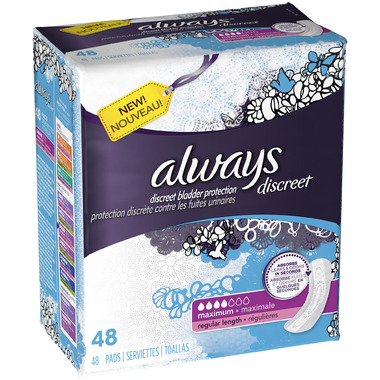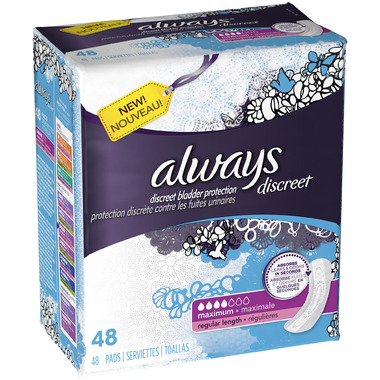 Always Discreet Regular Length Incontinence Pads
Maximum Protection
48 Pads
Always Discreet Regular Length Incontinence Pads feature a new design that is 40% thinner for maximum comfort and discreetness. Rest easy knowing that Full-length Dual LeakGuards and OdorLock technology ensures you feel confident and protected using Always Discreet incontinence pads.
Help protect against moderate bladder leaks and fight back against that overactive bladder!
Features:
Full-length Dual LeakGuards help prevent against leaks




Up to 40% thinner for your comfort and discreetness




DualLock core absorbs liquid to ensure dryness




Neutralize urine odours instantly with exclusive OdorLock technology




Resealable wrapper provides easy, convenient and sanitary disposal



Irmgard:
about a year ago
I am happy that these pads are thin , they are not noticeable outside the clothing
But : the glue does not hold very good and the moisture does not get wisked away fast enough so it leeks down the legs, very uncomfortable!
I do like the unconspicious wrapping, they are not so showy like some dark pinks! I use them for daytime and at night but with 1/2 of a thicker one to catch the moisture! Esspecially at night !
Page
1