Amazing Grass Green SuperFood Berry Infusion Goji & Acai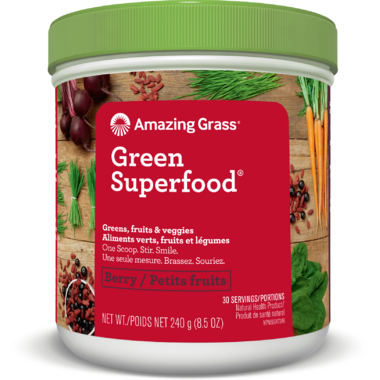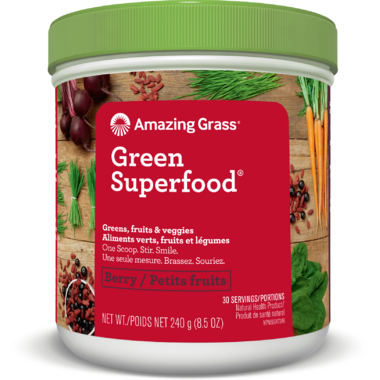 Amazing Grass Green SuperFood Berry Infusion Goji & Acai


Amazing Grass Green SuperFood Berry Infusion Goji & Acai is a delicious drink powder infused with acai and goji berries to help you achieve your 5 to 9 daily servings of fruits and vegetables. A full spectrum of alkalizing green superfoods, antioxidant rich fruits, and support herbs unite with organic Acai and Goji berries to provide a powerful dose of whole food nutrition with a delicious berry taste.
Suggested Use:
The 8.5 oz bottle has 30 servings and a convenient scoop.


Serving size:
one scoop, 8 grams. Recommend 1-3 servings daily.
Features:
Natural
Non-GMO
Kosher
Vegan
Benefits:
Naturally detoxifies & boosts your immune system
Probiotics and Enzymes to aid digestion & absorption
Complete raw food with powerful antioxidants
Alkaline green plant foods balance acidic pH levels
Contains over 70% Organic ingredients
More organic whole leaf greens per gram than other green superfoods - not from juice
Featuring Sambazon organic pure açaí powder
No soy lecithin fillers
Nitrogen packed for freshness