Amazing Grass Protein Superfood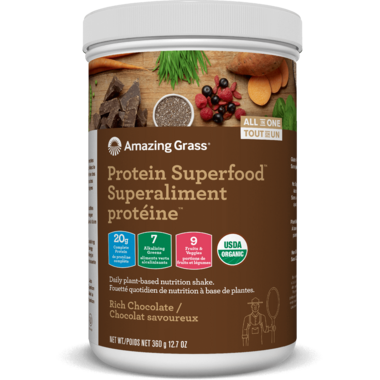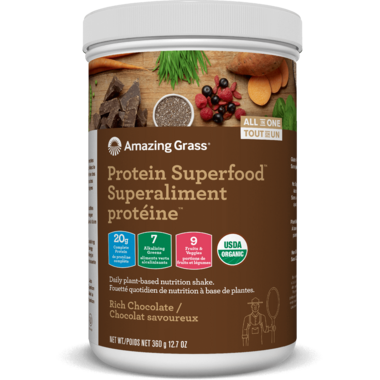 Amazing Grass Protein Superfood
All-in-one nutritional protein shake, organic, complete plant-based proein combined with our farm fresh greens and nutrient dense fruits & veggies
20 g complete protein from organic pea, quinoa, hemp and chia
7 alkalizing greens
9 nutrient-dense fruits & veggies
2 full servings of fruits & veggies
certified organic
non-GMO
gluten-free
dairy-free
grain-free
Ingredients:

* organic wheat grass, organic alfalfa, organic barley grass, organic spinach, organic spirulina, organic chlorella (cracked cell wall), organic broccoli, organic pea protein, organic hemp protein, organic chia, organic quinoa, organic acai, organic banana, organic beet, organic carrot, organic goji, organic pineapple, organic sweet potato, organic raspberry, organic rose hips, xanthan gum, natural vanilla flavour, organic Madagascar vanilla
vegan, Kosher, non-GMO, gluten free; USDA organic


Deb:
a few months ago
I have tried a variety of protein powders that I could make with water and enjoy the taste of. I am a real chocolate fan, and find many just do not deliver on the chocolate flavour. This one is not bad. Some have been awful. This one is not. It's really very tasty. It thickens up like chocolate milk. It has a great nutritional profile...I even had my naturopathic doctor review it for me. I am having it solely for breakfast and coupling it with vegetables at lunch. It has very low carb and sugar content which is great. It's definitely worth trying this one.
Larissa:
a few months ago
Love this!!! The Chocolate flavour is quite tasty and rich, and I feel great taking it! It's filling and I feel energetic drinking it!
I've got Gestational Diabetes so am very sensitive to the amount of carbs in things, but also prone to low iron and need lots of fiber, and this delivers on all fronts!!
I can also react badly to large amounts of stevia in protein powders but this doesn't bother me at all!!
Page
1