ANDALOU naturals MEN Get Going Kit
4 Travel Sized Grooming Essentials
50 mL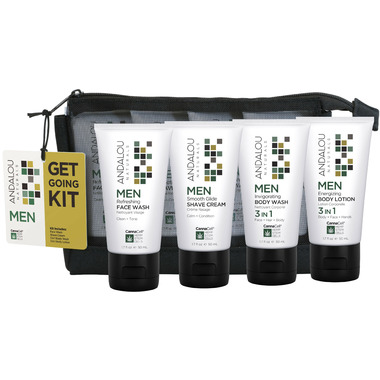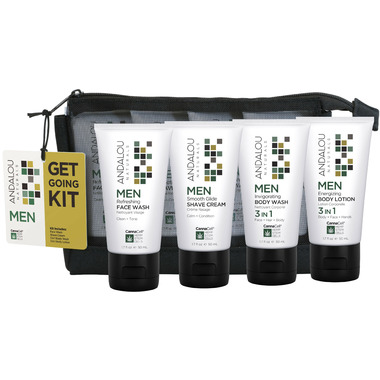 ANDALOU naturals MEN Get Going Kit
4 Travel Sized Grooming Essentials
50 mL
ANDALOU naturals MEN Get Going Kit features four of ANDALOU naturals' MEN care products: Refreshing Face Wash, Smooth Glide Shave Cream, Invigorating 3 in 1 Body Wash, and their Energizing 3 in 1 Body Lotion. All of these products are formulated especially for men with CannaCell® antioxidants, organic hemp seed oil, and nourishing botanical butters to smooth, soften, and enhance manageability for a well-groomed appearance. This set of smaller quantity items are perfect for traveling or as a gift!
ANDALOU naturals' CannaCell® hemp stem cells are naturally occurring phytocannabinoid antioxidants extracted from the mature stalk of the hemp plant. These superpowered antioxidants help defend against free radicals and counteract premature aging due to oxidative damage, pollution, and UV sun exposure. Also included in this product is 100% pure hemp seed oil, which is a nourishing complex of proteins, nutrients, and minerals, rich in vitamins E, C, B1, B2, B3, B6, and the perfect ratio of 3:1 Omega-3 and Omega-6 fatty acids. The antibacterial, anti-inflammatory, and moisture retention properties help strengthen skin's barrier function and protect from dehydration and environmental stressors.

Features:
Made with bioavailable vegan ingredients to be gentle and effective for all skin and hair types
Contains no gluten, phthalates, sulfates, silicones, or parabens.
THC free and cruelty free

4 Travel Sized Grooming Essentials
*Certified Organic Ingredient †Fair Trade Ingredient **Component of Essential Oil

Phthalates, sulfates, silicones, and parabens free.