Anita's Organic Mill Organic Sprouted Kamut Flour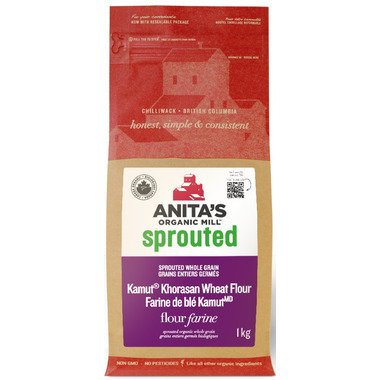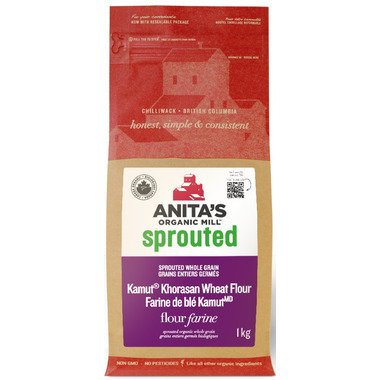 Anita's Organic Mill Organic Sprouted Kamut Flour
For many people with wheat allergies, Kamut has become a go-to grain. Kamut is known as "the wheat you can eat." Most people with allergic reactions to common wheat can take in Kamut without any discomfort or allergic reaction. Kamut is a heirloom grain that originated in Egypt.
Most Kamut is grown in southern Saskatchewan or the upper Great Plains regions of North America keeping it local and healthy! Kamut is the high-energy wheat that doesn't drain your body's energy to digest.
Kamut grain is twice the size of durum wheat and has a higher nutritional value. Specifically, it has more protein and is higher in vitamins (vitamins B1, B2, E and niacin) and minerals (iron, magnesium, phosphorus, selenium and zinc). Kamut has about 30% more protein than standard wheat, but has lower fibre. Kamut provides 100% of the daily recommended intake for selenium in just 2-3 servings. Kamut products also rank low on the glycemic index. Low glycemic foods are very important for diabetics, dieters and athletes who look for foods that do not stimulate insulin and fat storage.