Annie Chun's Seaweed Snacks

Here's your chance to discover a delicious new snack that's bursting with flavor and chock-full of vitamins and minerals to keep you going all day long. Annie Chun's Korean seaweed is roasted to perfection and then seasoned with a dash of salt, sesame seed oil, and wasabi powder creating a savory taste sensation that promises to excite your palate. Go ahead. Indulge. Your friends will have culture envy. Bring home Annie Chun's Wasabi Seaweed Snacks today and enjoy a unique, healthy snack!

Ingredients:
Seaweed, Canola Oil, Wasabi Flavor Powder (Maltodextrin, Salt, Modified Corn Starch, Mustard Oil), Sesame Oil, Brown Sugar.
Nutritional Information: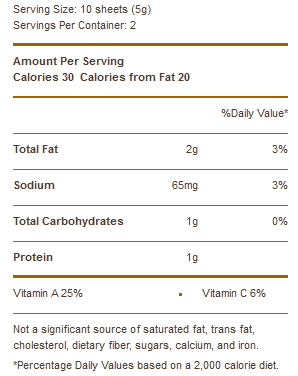 Similar Dried Fruit & Vegetables