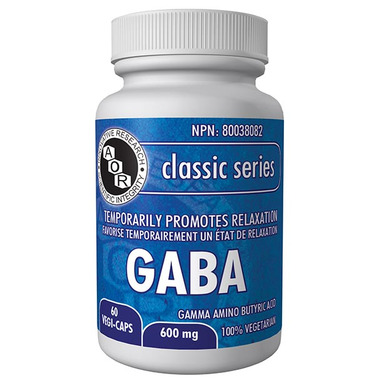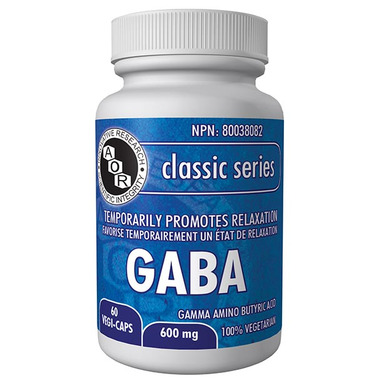 AOR GABA is a neurotransmitter that inhibits the activity of excitatory neuronal impulses to prevent the overstimulation of the brain. GABA has been referred to as the brain's natural calming agent and helps to temporarily promote relaxation.
Features:
Promotes relaxation and enhances sleep
Increases growth hormone levels
Provides one of the highest dosing ranges available
Adult Dosage: Take 1-5 capsules daily without food, or as directed by a qualified health practitioner.

Supplement Facts:
Serving Size: 1 Capsule Amount Per Serving

Gamma Amino Butyric Acid 600 mg
Non-medicinal ingredients: may contain microcrystalline cellulose, sodium stearyl fumarate. Capsule: hypromellose.

AOR Guarantees: that no ingredients not listed on the label have been added to the product. Contains no wheat, gluten, corn, nuts, peanuts, sulphites, sesame seeds, mustard, dairy, soy, eggs, fish, shellfish or any animal byproducts.






Elroy:
more than a year ago
It's hard to say if this product works because it doesn't make you tired. I think it does work, but it's effects are subtle. I take 2 near bedtime. It does not last all night and on it's own it's not a sleep aid in my opinion. It does an ok job of helping quiet a noisy mind, so to speak. I use it with valerian root.
Page
1