Art of Raw Hazelnut Chocolate Raw Dessert Mix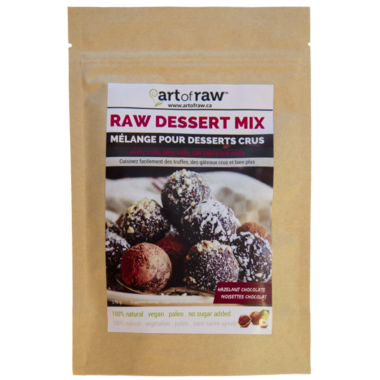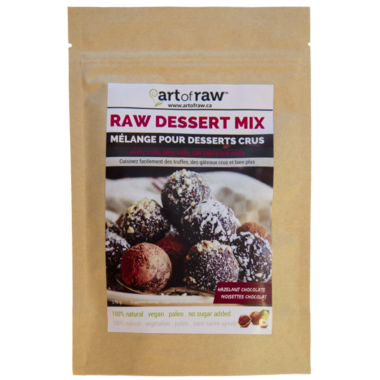 Art of Raw Hazelnut Chocolate Raw Dessert Mix
Filled with creamy hazelnuts and antioxidant rich cocoa, this delicious gourmet mix will offer you various dessert and snack choices that are fun, nutritious and super easy to make.
Benefits:
Source of fibre
No added sugar
GMO free
Certified vegan
Wheat Free
Raw and paleo diet friendly
Contains superfood ingredients
Delicious Bliss Balls in 4 Simple Steps:
1. Pour a bag of raw mix into your food processor.
2. Add 10 pitted medjool dates ( if using smaller dates add 15 dates)
3. Process until small crumbs are formed.
4. Shape dough into bite-sized balls
Optional: Roll balls in coconut flakes, seeds or cocoa powder.
Other Uses:
Use as a base for your unbaked (raw) desserts
Make nutritious energy bars or protein bars
Top your granola, yogurt, smoothies or ice-cream to boost nutritional value and add incredible taste
Ingredients: almonds, hazelnuts, cashews, sunflower seeds, coconut, cocoa, chia seeds, sea salt, spices. Allergens: Contains tree nuts. Caution: May contain nut shell fragments.