Ava Isa Pure Untinted Facial Sunscreen
Ultra Matte Untinted SPF 45
80 ml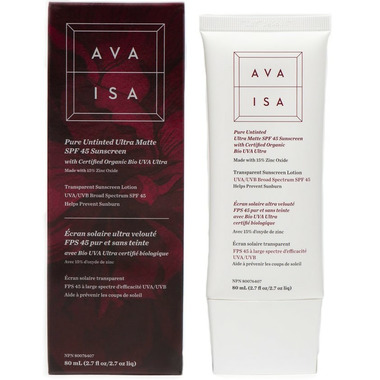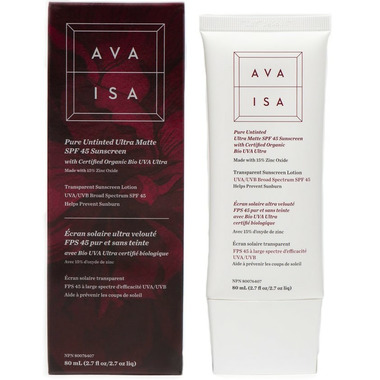 Ava Isa Pure Untinted Facial Sunscreen
Ultra Matte Untinted SPF 45
80 ml
Ava Isa's most light-weight, ultra matte sunscreen to date. With Ecocert certified organic 15% Zinc Oxide as its active ingredient and patent pending Bio UVA Ultra in its untinted form. This extremely dry touch finish, feels instantly weightless when applied to the skin. It provides exceptional UVA and UVB protection with zinc oxide as its only active ingredient.
Patent pending innovation Bio UVA Ultra uses an Ecocert certified organic material to increase the UVA protection by up to 60% in addition to improving the SPF. This formula is a true SPF 45, meaning it does not use anti-inflammatories or anti-oxidants to artificially elevate the SPF during testing. The formula features a high concentration of certified organic and naturally derived ingredients.
Description and Features:
Invisible lotion with no tint and or coverage
Can act as a primer for make-up
Excellent for oily/combination/normal skin or anyone who dislikes the feel of a 'classic' sunscreen
For dry and/or mature skin, can be used but should be paired with a full hydration routine like a serum and moisturizer
New Improved Texture: Smooth and Creamy, Lightweight and Ultra-Matte
Directions:
1. Mix well before each use
2. Squeeze enough to apply to face, neck, chest and hands or any area that will be exposed to the sun. For best use, apply the product to the back of your hand and warm up with your fingers. Apply to the quadrants of your face and blend. This product is fast drying and ultra matte so it requires quick blending. Avoid eyebrows and hairline.
Medicinal Ingredients:

(w/w): 15% Zinc Oxide*

Non-Medicinal Ingredients:

Aqua, Coco-Caprylate/caprate*, Polyglyceryl-3 Polyricinoleate*, Isostearic Acid*, Polylactic Acid*, Caprylic/ Capric Triglyceride*, Propanediol*, Undecane*, Tridecane*, Cetearyl Olivate*, Sorbitan Olivate*, Polyglyceryl-3 Dicitrate/Stearate*, Titanium dioxide, stearic acid, alumina, cerium dioxide, silica, aluminium hydroxide, polyhydroxystearic acid, Caprylhydroxamic Acid, Caprylyl Glycol, Glycerin*, Polygonum Aviculare Extract, Xanthan Gum.

*Denotes ingredients that are Ecocert® certified Organic