A.Vogel Menopause Natural Remedy For Hot Flashes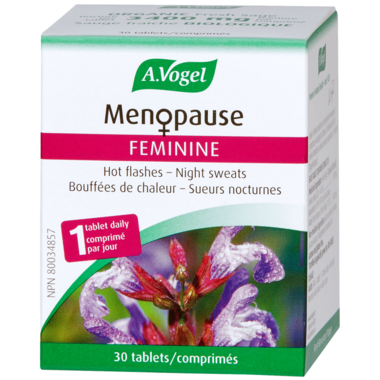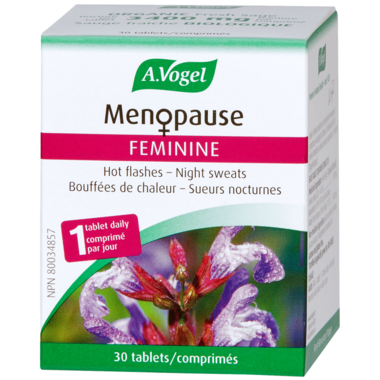 A.Vogel Menopause Natural Remedy For Hot Flashes
Used in herbal medicine as a natural remedy to help relieve menopausal symptoms including hot flashes. Traditionally used in Herbal Medicine to reduce excess perspiration / sweating (hyperhidrosis).
Features:
100% Organic Sage
Reduces the frequency and severity of hot flashes and sweats.
Promotes a good night's rest!
Clinically tested.
Natural, safe and effective.
Gluten- and lactose-free
NPN 80034857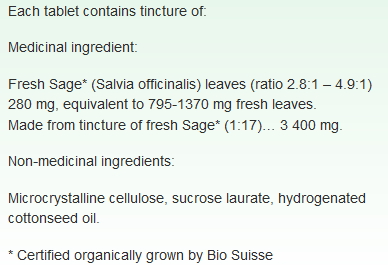 Dosage: Adults: Take one tablet, 1-5 times daily, with water. Maximum daily dose in acute cases.
Caution:

Consult a healthcare practitioner prior to use if you have a seizure disorder ( e.g. epilepsy).
Do not use during pregnancy.
Consult a healthcare practitioner prior to use if you are breastfeeding.
Consult a healthcare practitioner if symptoms persist or worsen.
For prolonged use, consult a healthcare practitioner.
Avoid taking in case of known allergy to any of the ingredients in the product.
Do not use if safety seal is broken. Keep out of reach of children.
Christina:
more than a year ago
I was suffering from severe menopause-related hot flashes that were not merely inconvenient but were drastically disrupting my sleep cycle. I used this product in conjunction with ESTROVEN and my hot flashes disappeared started to lessen after approx 3 weeks of daily use. After 5 weeks use hot flashes have almost disappeared completely.
Page
1