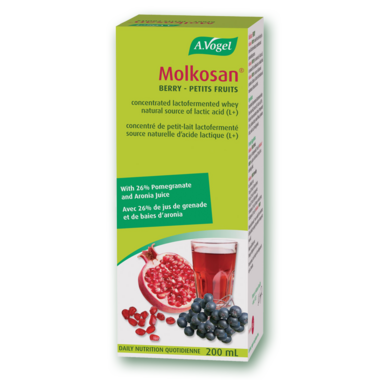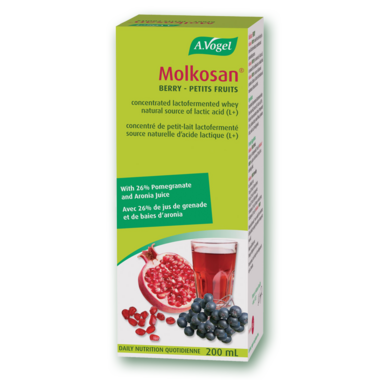 A.Vogel Molkosan Berry helps to bring the body pH into balance.
Molkosan® Berry is made from organic fresh milk. Fats, sugars and proteins are extracted by centrifugation and ultra-filtration, leaving the whey (lactoserum) behind. The whey is then fermented with Bioforce's own registered bacteria: Lactobacillus casei. This process yields a liquid rich in L+ lactic acid (95%), in alkaline minerals and particularly in potassium.
Molkosan® Berry is a source of calcium and potassium. Calcium is a factor in the formation and maintenance of bones and teeth.
Features:
Maintain a healthy intestinal bacteria
Stimulate the stomach by restoring its natural acid pH
Bring the pH of the body into balance
Aid in the formation and maintenance of bones and teeth
Ingredients:
Concentrated deproteinized lactofermented whey (from Swiss milk), source of (L+) lactic acid (7%); fruit juice from concentrates (Aronia, Pomegranate) (26%), calcium lactate, natural flavours, potassium citrate, malic acid, steviol glycoside.
Serving Suggestion:
Add up to 1 tablespoonful (15 mL) of Molkosan® Berry in a glass of cold water (250 mL) for a refreshing drink.
Lactose, sugar and gluten free.