Bathorium Holiday Luxe Gift Set
Four Single-Use CRUSH Bath Soaks
4 x 120g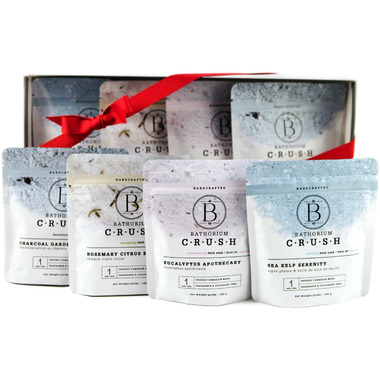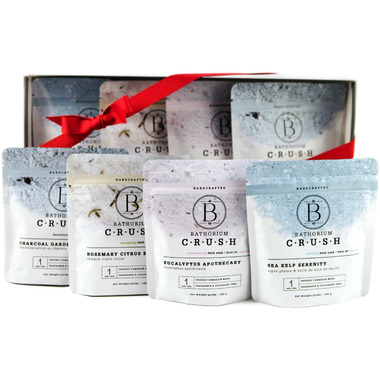 Bathorium Holiday Luxe Gift Set
Four Single-Use CRUSH Bath Soaks
4 x 120g
Indulge in one of each of Bathorium's signature C·R·U·S·H bath soaks. A great way to see which soak is your personal favourite.
FYI- This is the perfect gift for any bath lover in your life (trust us).
Set Includes:
1 x 120g Charcoal Garden Detox
1 x 120g Eucalyptus Apothecary
1 x 120g Sea Kelp Serenity
1 x 120g Rosemary Citrus Emulsion
Matte Finish Luxe Gift Box Pre-Wrapped with Red Satin Ribbon
Directions
: Fill tub with warm water, optimal temperature 38° C. Add 1/2 cup or 1 packet of C·R·U·S·H under running water. Get naked. Get in. You've earned it.
Ingredients:
Charcoal Garden Detox- Sodium Bicarbonate, Citric Acid, French Sel de Mer, Epsom Salt, Coconut Milk*, Kaolin Clay, Sodium Lauryl Sulfoacetate, Sweet Almond Oil*, Cocoa Seed Butter*, Coconut Oil*, Basil Oil*, Lavender Oil*, Rose Geranium Oil*, Activated Bamboo Charcoal*, Aloe Leaf Juice*
Eucalyptus Apothecary- Sodium Bicarbonate, Citric Acid, Sea Salt, Epsom Salt, Kaolin Clay, Moroccan Lava Clay, Sodium Lauryl Sulfoacetate, Jojoba Oil*, Coconut Oil*, Aloe Butter*, Tea Tree Oil*, Eucalyptus Oil*, Peppermint Oil*, Pine Oil*, Wintergreen Leaf Oil*, Camphor Oil* Eucalyptus Leaf* Aloe Leaf Juice*
Sea Kelp Serenity- Sodium Bicarbonate, Citric Acid, Sea Salt (French Mineral Salt), Kaolin Clay, Sodium Lauryl Sulfoacetate, Grape Seed Oil*, Shea Butter*, Sea Kelp, Bergamot Oil*, Lavender Oil*, Dead Sea Mud, Aloe Leaf Juice*
Rosemary Citrus Emulsion- Sodium Bicarbonate, Citric Acid, Sea Salt, Sel de Mer (French), Coconut Milk*, Kaolin Clay, Sodium Lauryl Sulfoacetate, Orange Peel, Grape Seed Oil*, Argan Oil*, Mango Seed Butter*, Sweet Orange Oil*, Rosemary Oil*, Lemon Oil*, Grapefruit Oil*, Ylang Ylang Oil*, Aloe Leaf Juice* (May contain nut oils)
Natural, Organic, Vegan, Gluten Free, Fair Trade