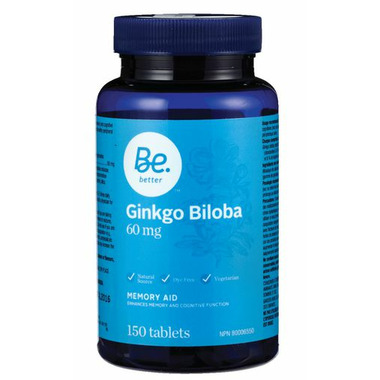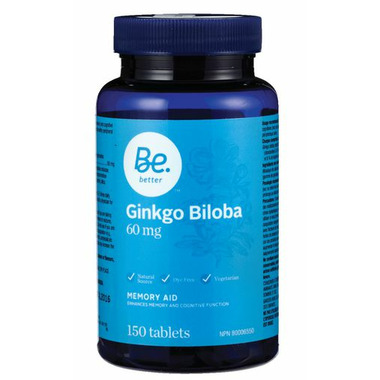 - We're sorry, this product is no longer available!
- Shop for other products in: Ginkgo Biloba

The Be Better Ginkgo Biloba is a natural, dye free, and vegetarian memory aid that helps enhance memory and cognitive function.

Ingredients: Ginkgo biloba 50:1 Extract (leaf) (Standardized to 24% ginkgo flavone glycosides and 6% terpene lactones) 60 mg, Microcrystalline cellulose, dibasic calcium phosphate dihydrate, croscarmellose sodium, coating (carbohydrate gum, glycerin), silica, magnesium stearate.

Dosage: 1 tablet, 2–3 times daily, or as recommended by a physician. Consult a physician for use beyond 6 weeks

Caution: Consult a physician prior to use if you are taking medications for diabetes, high blood pressure or seizures, or if you are pregnant or breastfeeding. Do not use if you are taking health products that affect blood coagulation (e.g., blood thinners, clotting factor replacements, acetylsalicylic acid, ibuprofen, fish oils, vitamin E) as this may increase the risk of spontaneous bleeding.