Beauty from the Inside Out Bundle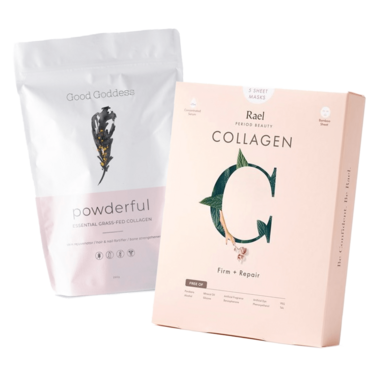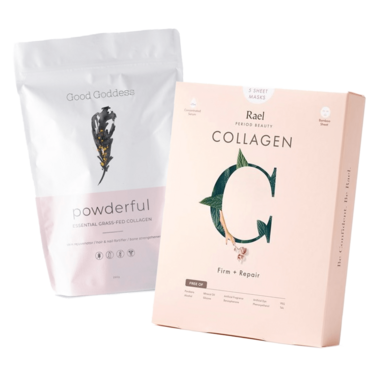 Beauty from the Inside Out Bundle
Beauty from the inside out! Feel your best with this beautifying bundle.
Bundle Includes:
Good Goddess Powderful Grass Fed Collagen - 250 g

Rael Collagen Facial Sheet Mask - 5 Sheets
Collagen Details:
Good Goddess Powderful is a flavourless, dissolving type 1 and 3 collagen peptides are short-chain amino-acids-derived collagen protein from grass-fed cows and contain zero antibiotics, hormones, artificial sweeteners or GMOs. Powderful contains an extensive amino-acids profile, including Lysine, the main rebuilder of collagen in the skin.

Features:

Stimulated hair growth (keratin + collagen + minerals = hair growth) Because many of the amino acids, such as Lysine, are needed to make keratin, they are also found in Powderful Essential Collagen. Lysine has been found to reduce 5-alpha reductase, a major factor in male pattern baldness, so share with the boys!
Stronger nails because just like hair, nails need collagen, keratin and minerals to grow strong and healthy (Shellac women, we're talking to you!).
Re-growth of joint tissues as lack of collagen can lead to inflammation and joint deterioration. With Powderful you'll experience less joint pain and more agility in your joints, tendons and ligaments and, in some cases, less arthritic-like symptoms.
Reduction of cellulite (excess fat + lack of collagen + sugar = cellulite) Cellulite and stretch marks are typically due to a lack of collagen in the dermal layer, which normally keeps the fat in place.
Lessened leaky gut syndrome due to Powderful amino acids, such as glutamine, glycine and proline, which are key amino acids for preventing inflammation of the gut wall and helping heal leaky gut syndrome.
Dosage: ONE TABLESPOON PER DAY = 8G of protein

In any beverage (especially in butter coffee with GG Boostina Beans for a higher performance bevvie!)

In smoothies
In detox water
In baked goods and homemade grass-fed-gelatin gummies
Sheet Mask Details:
Rael Collagen Facial Sheet Mask is a silky-soft, skin-hugging mask that is infused with hydrolyzed collagen and amino acids to help give the appearance of youthful looking skin.

Features:

Made with bamboo yarn and nano-technology to fit most face shapes and sizes
Licorice root
Hydrolyzed collagen and amino acids

Ingredients: Licorice root extract, Hydrolyzed collagen and wheat amino acids.

Does Not Contain: Parabens, alcohol, mineral oils, silicone, artificial fragrance, benzophenone, pigment, phenoxyethanol, PEG, and talc