Beekeeper's Naturals B.LXR Brain Fuel
With Royal Jelly
6 x 10mL vials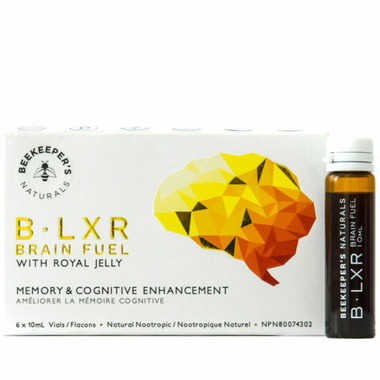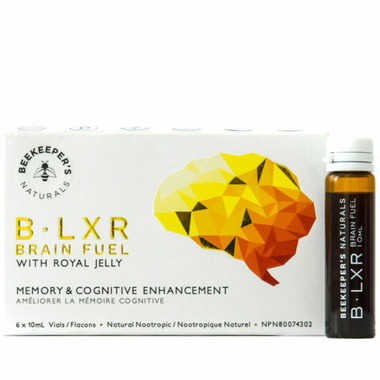 Beekeeper's Naturals B.LXR Brain Fuel
With Royal Jelly
6 x 10mL vials
- We're sorry, this product is no longer available!
- Shop for other products in: Bee Supplements

BLXR Brain Fuel is a powerful nootropic formula containing natural compounds to help enhance memory & cognition.
Helps to support cognitive health and/or brain function.
Helps to enhance cognitive function and/or memory in adults.
Bee prepared:
important tests
work projects
presentations
social gatherings
athletic performance
Directions:
Take 1/2 vial or full vial as needed (max. 1 per day)

Ingredients:
Each 10ml (1 vial) contains:
Bacopa monnieri plant extract (10:1) - 300mg,
Ginkgo biloba leaf extract (10:1) - 400mg,
Royal jelly - 500mg,
Non-GMO vegetable glycerin and
Purified Water
Cautions:
Consult a health care practitioner prior to use if you are pregnant or breastfeeding or taking medications for diabetes, high blood pressure or seizures; are allergic to royal jelly or bee products; or are prone to allergic reactions.
Contraindications: Do not use if you are taking health products that effect blood coagulation (e.g. blood thinners, clotting factor replacements, acetylsalicylic acid, ibuprofen, fish oils vitamin E) as this may increase the risk of spontaneous bleeding.