BetterBump Oats & Blueberry with Dark Chocolate Bars
Maternal Nutrition & Lactation Snack Bars
12 Pack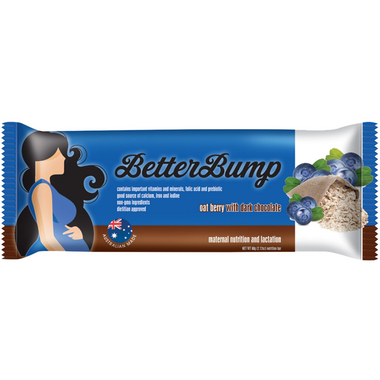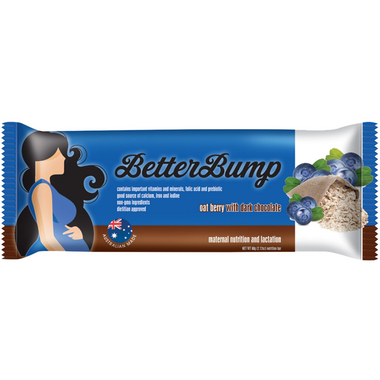 BetterBump Oats & Blueberry with Dark Chocolate Bars
Maternal Nutrition & Lactation Snack Bars
12 Pack
BetterBump, your maternal health and lactation bar, has been carefully developed by a prominent dietitian specializing in good maternal health before, during and after pregnancy, in conjunction with a leading food scientist. A prebiotic has been included because before and during pregnancy as well as whilst feeding good gut health is important for both mother and baby. This bar contains ingredients that may help support normal milk production (lactation) during feeding.
This unique and innovative product has been designed specifically with maternal mothers in mind. The bar can be consumed by anyone looking for a delicious and healthy snack but is scientifically designed to enhance your pregnancy before, during and after child birth.
Features:
Maternal Vitamin Premix: Prebiotic, Folic Acid, Iodine, Calcium & Iron
Great for lactation too! Includes oats, brewer's yeast and flax seed meal which are very powerful galactagogues (milk-producing substances)
Developed by a maternal dietician & leading food scientist
60g bar is much larger than normal snack bars
High in protein and low in sugar
No added sugar
No preservatives
No colours or additives
Gluten-free
Low GI
Non-GMO
Ingredients:
Oats (30%), Maltitol Syrup, Liquid Polydextrose, Soy Protein Isolate, Dark Chocolate Compound ((Sugar, Vegetable Fat, Cocoa [6%], Milk Solids [9%], Soy Lecithin Emulsifier, Flavours, Salt)), Brown Puffed Rice (Brown Rice, Rice Bran), Blueberries (5.6%) (Blueberries (55%), Sugar, Sunflower Oil), Erythritol, Inulin ( from Chicory), Olive Oil, Sesame Seeds, Pumpkin Seeds, Oat Bran (1%), Dried Yeast, Vitamin & Minerals (Calcium Phosphate, Folic Acid, Potassium Iodide, Zinc, Iron) Chia, Flaxseed, Natural Flavours, Stevia Extract (Reb A).