BioGaia Protectis Baby Drops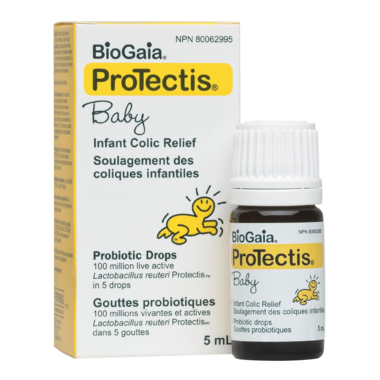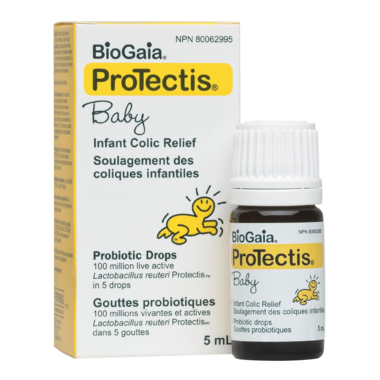 BioGaia Protectis Baby Drops
BioGaia Protectis baby drops is a probiotic food supplement containing the patented lactic acid bacterium Lactobacillus reuteri Protectis (L. reuteri DSM 17938) that helps the good microorganisms restore a natural balance in the gut.
Features:
5 drops once daily
One dose consists of a minimum of 100 million live Lactobacillus reuteri Protectis
One of the safest and most clinically studied probiotics in infants
Tested in 148 clinical trials
Strong adaptation to persist and interact with humans
Recommended by pediatricians all over the world
74 million sold bottles
How to use BioGaia Protectis drops:
Shake well for 10 seconds before each use to mix the bacteria culture with the oil.
To dispense the drops tilt the bottle and give by spoon.
Use 5 drops once daily.
Do not add to hot drink or food as this may damage the live bacteria.
Storage:
Store in a dry place, not above room temperature (max 25 °C / 77 °F). Keep out of reach of children. Keep the bottle closed. Avoid contact with fluids like saliva and water. Opened bottle should be used within 3 months.
Dosage:
5 drops once daily. One dose consists of a minimum of 100 million live L. reuteri Protectis. Recommended dose should not be exceeded. This product should not be used as a substitute for a varied diet.
Ingredients:
Sunflower oil, medium chain triglyceride oil (palm kernel) and L. reuteri DSM 17938. The package includes a white desiccant device for prolongation of shelf-life.
The desiccant device is approved for use in direct contact with food and should not be consumed. The product is packed in a protective atmosphere.
No Refrigeration Required.
Please be advised that Well.ca follows manufacturer guidelines for storing & shipping probiotics.