Biokleen Bac-Out Stain+Odor Remover Spray
Live Enzyme Cultures & Lime Extracts
32oz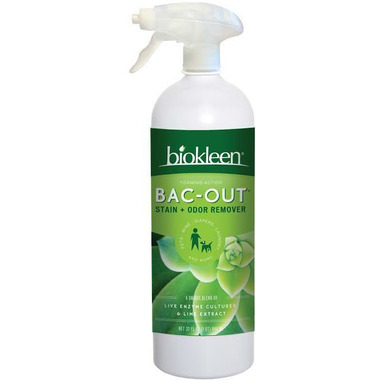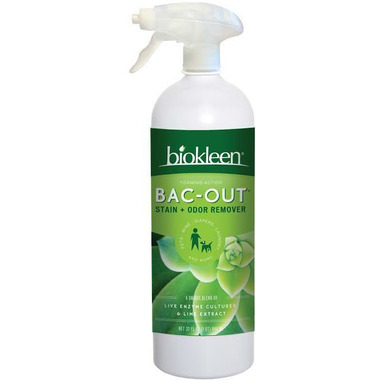 Biokleen Bac-Out Stain+Odor Remover Spray
Live Enzyme Cultures & Lime Extracts
32oz
Biokleen's unique and synergistic blend of live enzyme-producing cultures, citrus extracts and plant-based surfactants remove the toughest stains and odors and their return. For pets, kids, and everyday disasters, Bac-Out to the rescue every time.
Features:
A unique blend of live enzyme-producing cultures, botanicals, and plant-based surfactants.
Great on pet accidents, wine, diapers and pails, laundry, and much more.
Full strength formula is ready to use.
No diluting required.
No artificial fragrance or colors.
Tips for Use:
To remove stains + odors, remove excess waste, saturate affected area, let sit for 5 minutes or more.
Blot with rag.
Ingredients:
Water (filtered), Glycerin (vegetable), Caprylyl?Capryl Glucoside (plant based surfactant), C10-16 Alkyl Glucoside (plant based), Laureth 7 (plant based surfactant), Citrus Terpenes, Dipropylene Glycol (less than .1 percent), Benzisothiazolinone (less than .05 percent), Viable Bacillus Cultures.
CAUTION: In case of eye contact, flush with cool water for 15 minutes. In case of ingestion, do not induce vomiting; drink plenty of water to dillute.