Biomed Nestmann Pharma Detox Kit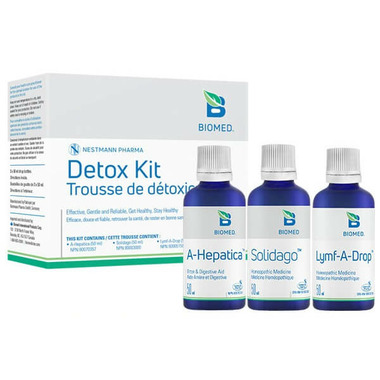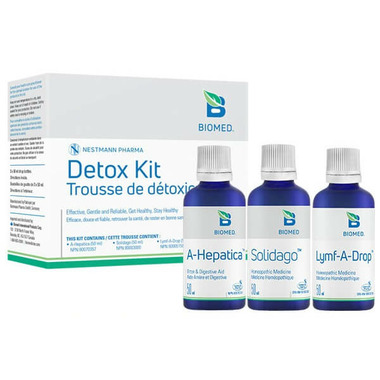 Biomed Nestmann Pharma Detox Kit
The Nestmann Pharma Detox Kit contains homeopathic and herbal preparations for a complete and natural cleansing of the body through the major organs involved in detoxification: the liver and gallbladder, intestines, kidneys and lymph. Exposure to toxins and chemicals burden the body by being absorbed through the skin, swallowed and inhaled on a daily basis. Since daily exposure is unavoidable, the best defense is detoxification.

Features:

Used in Germany for over 60 years
Herbal and homeopathic formulas for complete body cleansing
Improve function and circulation to targeted organs
Increase elimination of toxins from tissues and cells
Dosage:

Two options for use or as directed by a health care practitioner:
A) Combine ½ tsp. (50 drops) of each of A-Hepatica, Solidago and Lymf-A-Drop in a bottle of water (1 – 1.5 litres) and drink throughout the day.
or
B) Take 17 drops each of A-Hepatica, Solidago and Lymf-A-Drop combined in water three times daily, or as directed by a health care practitioner.
Kit Includes:
A-Hepatica 50 ml
Solidago 50 ml
Lymf-A-Drop 50 ml

Product may have photosensitizing effect. Consult a healthcare practitioner prior to use or if symptoms persist or worsen. Consumption with alcohol, other medications or health products with sedative properties is not recommended. Do not use if you are sensitive to plants in the Umbeliferae/Apiaceae/Carrot family. Hypersensitivity/allergy is known to occur, in which case, discontinue use. Some people may experience drowsiness. Exercise caution if operating heavy machinery, driving a motor vehicle or involved in activities requiring mental alertness. Do not use if you have obstruction of the bile duct, cholangitis or liver disease. Consult a health care practitioner prior to use if you have a biliary disorders and prior to use if you are taking other medications.

GMO Free, Vegan, Soy Free, Gluten Free, Dairy Free