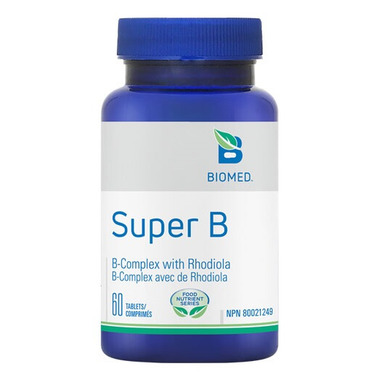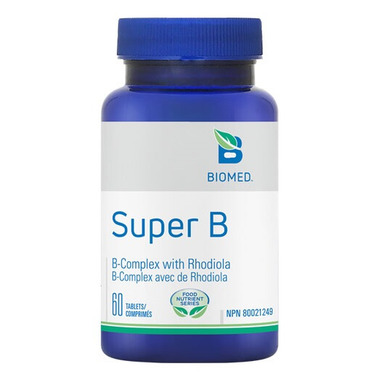 Super B is a unique Food Nutrient formula designed with food matrix molecules for high bioavailability, assimilation and absorbency. It contains all eight water-soluble B vitamins and supporting lipotrophic factors required in proper functioning of the nervous, immune and cardiovascular systems and vital to mental well-being. Super B also contains Rhodiola rosea, a well-known herb for stress, making this formula ideal for stress management and adrenal support.

Dosage: 1 tablet per day

Ingredients:

Vitamin B1 (thiamine) 1.4 mg
Vitamin B2 (riboflavin) 1.6 mg
Vitamin B3 (niacin - nicotinic acid) 18 mg
Vitamin B5 (calcium-d-pantothenate) 6 mg
Vitamin B6 (pyridoxine hydrochloride) 2 mg
Vitamin B12 (cyancobalamin) 1 µg
Vitamin C (ascorbic acid) 60 mg
Hesperidin (citrus bioflavonids) 6 mg
Biotin (biotin) 150 µg
Choline (choline bitartrate) 25 mg
Folate (folic acid) 200 µg
Insitol (insitol) 25 mg
Para-amin-benzoic acid (PABA) 25 mg
Rhodiola rosea (Arctic root, 3% rosavins) 100 mg
Caution: Consult a health care practitioner prior to use if you are pregnant or breast feeding. Vitamin B12 supplementation can mask a folate deficiency. Consult a health care practitioner if you are uncertain whether or not you are taking adequate folate. Consult a health care practitioner to use if you are taking sulfonamides. Known adverse reactions: Hypersensitivity (i.e. allergy) has been known to occur due to PABA, in which case, discontinue use. People sensitive to nicotinic acid may experience flushing of the skin that is generally mild and transient.
GMO Free, Vegan, Gluten Free, Dairy Free