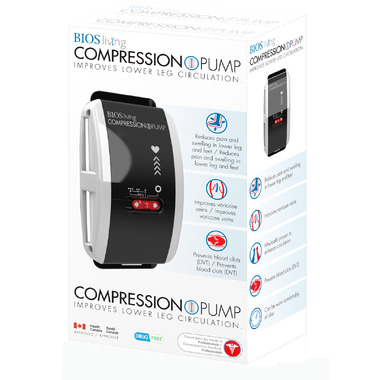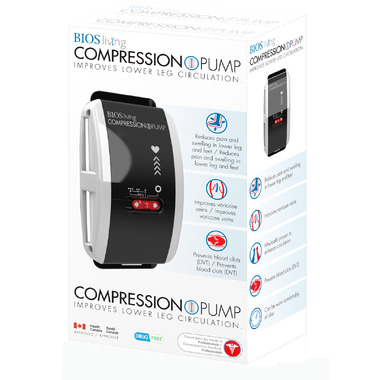 The BIOS compression pump is a compact battery-operated, peristaltic pump that generates a wave-form motion. When worn firmly on the calf, the device produces upward volumetric displacement, which translates to an increase in blood floow. The BIOS compression pump was developed and tested in Canada.
The BIOS Compression Pump is a medical device that has been statistically proven to improve circulation and alleviate the sumptoms associated with chronic venous insufficiency (CVI) including swollen legs, varicose veins and post thrombotic syndrome (PTS).
How the BIOS compression pump works:
The pump is applied to the back of the calf, and mimics the body's venous system by preventing blood from remaining still and clotting
The BIOS compression pump is unique because it is lightweight (250 g), and allows patients to remain completely mobile
There are no wires, tubes or sleeves
Patients can comfortably wear the compression pump for hours at a time
Features:
Alleviates swollen, sore legs, ankles and feet(PTS - Post Thrombotic Syndrome)
Prevents blood clots (Deep Vein Thrombosis)
Treats cramping, burning and tired calves (Intermittent Claudication and Peripheral Arterial Disease)
Improves symptoms of varicose veins
Treatment of chronic venous insufficiency
Long journeys syndrome (Economy Class Syndrome)
Reduces Recovery Time After Exercise
The BIOS Compression Pump has the following real-world outcomes:
64% increase in popliteal peak venous flow after 2 minutes of use
88% increse in popliteal peak venous flow after 50 minutes of use
79% decrease in the occurrence of Venous Thromboembolism in high risk patients.