Biotics Research Optimal EFAs Capsules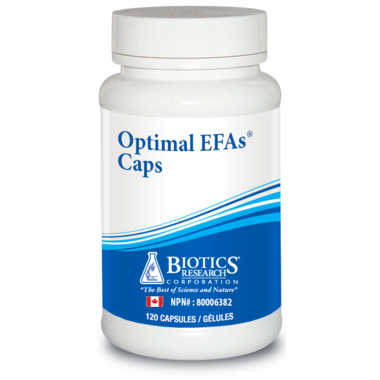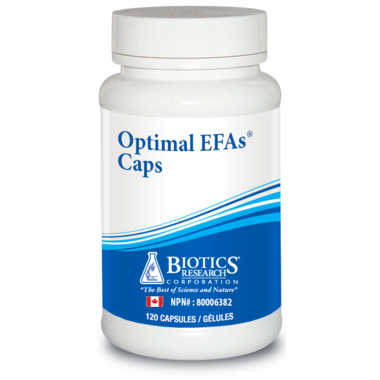 Biotics Research Optimal EFAs Capsules
Optimal EFAs Caps supplies a unique blend of the highest quality fish, flaxseed and borage oils, providing a balanced blend, in optimal ratios of omega-3, 6, and 9 essential fatty acids. Fatty acid imbalances are common in societies that consume an abundance of processed foods with artificial ingredients and hydrogenated fats, and have an over-reliance on grains.

Essential Fatty Acid (EFA) deficits generally occur in combination; therefore, supplementation with a balanced combination makes clinical sense. Optimal EFAs provides a healthy balance of all the health-promoting fatty acids, tested for purity, as an easy to take capsule.
AMPK is a master control mechanism for cellular energy homeostasis. It determines body fat composition and has a significant impact on mitochondrial biogenesis, the diabesity spectrum and life span extension in mice models. Use for free radical pathology (cancer), depression, anxiety, schizophrenia, eczema, psoriasis, asthma, arthritis, inflammatory conditions, cardiovascular disease, allergy, diabetes
Dosage: 2 capsules twice daily with meals or as directed.
Active Ingredients: Fish oil, Flax Seed oil, and Borage oil, providing 280 mg ALA (Alpha-Linolenic acid), 159 mg EPA (Eicosapentaenoic acid), 105 mg DHA (Docosahexaenoic acid), 112 mg GLA (Gamma-Linolenic acid), and 204 mg Oleic acid. Calories - 20, Calories from Fat - 20, Total Fat - 2 g, Saturated Fat - 0 g, Cholesterol - 5 mg.

Other Ingredients: Capsule shell (gelatin, glycerin, water and carob), mixed tocopherols, rosemary extract and ascorbyl palmitate. Contains ingredients derived from sardine and/or anchovy.

Cautions: Not recommended for pregnant women. KEEP OUT OF REACH OF CHILDREN.


This product is gluten and dairy free.