Bloomiss Blooming Regeneration Cream
Antioxidant Retinol Night Cream
60 mL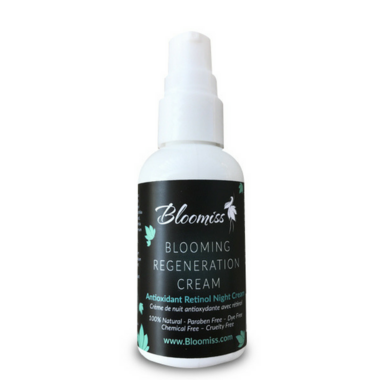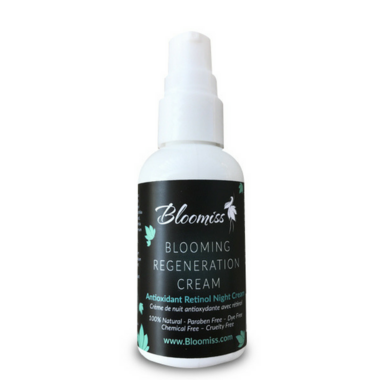 Bloomiss Blooming Regeneration Cream
Antioxidant Retinol Night Cream
60 mL
The combination of antioxidants and the amazing benefits of retinol are formulated together to give your skin a rejuvenated look, reducing the appearance of fine lines and wrinkles, while brightening your skin tone. Protecting your skin from the everyday harmful elements, this formula restores moisture to your skin, giving you results of youthful looking skin.
Features:
Antioxidants and retinol give you fast results to reduce fine lines and wrinkles

Rejuvenates and repairs your skin as you sleep

Restores moisture to the skin naturally

Made in Canada
Ingredients: Organic Aloe, Aqua -Water, Organic Sunflower Oil, Isopropyl Palmitate, Glyceryl Stearate SE, Cetyl Alcohol, Retinol, Plant Based Hyaluronic Acid, Kosher Vegetable, Organic Jojoba, Shea Butter, Vitamin B5, Vitamin E, Propolis Extract, Organic Gotu Kola, Equisetum Arvense Extract, Dandelion Extract, Wild Geranium Extract, Green Tea Extract, Xanthan Gum, Phenoxyethanol, Ethylhexylglycerin, Pink Grapefruit Peel Oil, Bergamot Oil.
Avoid contact with eyes and mouth. Suitable for all types of skin.