Detoxifying Coconut Charcoal Scrub
236 mL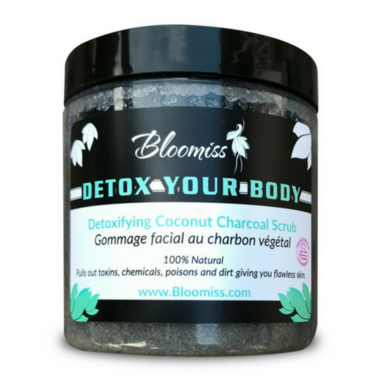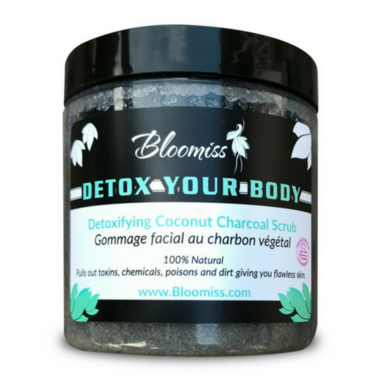 Bloomiss Detox Your Body
Detoxifying Coconut Charcoal Scrub
236 mL
Detox Your Body Charcoal Scrub will exfoliate and nourish your skin in one simple step. Activated charcoal is well known to absorb toxins, chemicals and poisons before they can harm your body. This scrub will pull out all the nasty toxins that have built up on your skin, removing dead skin cells and give your skin renewed life so it is smooth and silky.
Features:
Activated Charcoal pulls out toxins, chemicals, poisons, and dirt giving you flawless looking skin

Deeply nourishes your skin with grape seed oil, coconut oil, shea butter

Amazing for all types of skin, women and men

100% Natural, Paraben Free, Dye Free, Sulfate Free, Cruelty Free

$1.00 of the sale of this product goes to the Blooming Hopes program
Ingredients: Sugar, Coconut Oil, Sunflower Seed Oil, Organic Coconut Oil, Emulsifying Wax NF, Grape Seed Oil, Organic Beeswax, Glyceryl Stearate, Palm Stearic Acid, Organic Carnuba Wax, Organic Shea Butter, Coconut Charcoal Powder, Vitamin E, Lavender Oil, Peppermint Oil
Avoid contact with sensitive skin.