Bob's Red Mill Paleo Pancake & Waffle Mix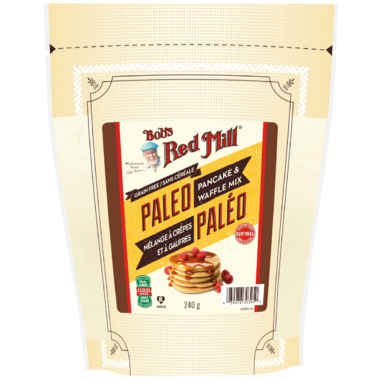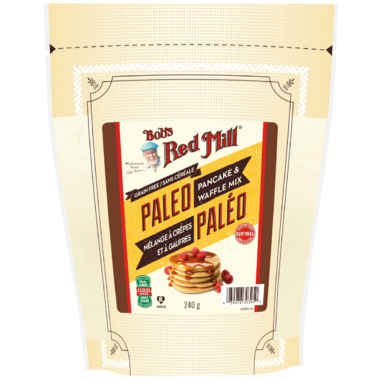 Bob's Red Mill Paleo Pancake & Waffle Mix
This paleo-friendly pancake and waffle mix features nourishing almond flour, coconut flour, simple root starches, organic coconut sugar and baking soda. It's a convenient choice for a paleo breakfast or snack! Bob's Red Mill paleo pancake recipe couldn't be easier: eggs, water and coconut oil are the only ingredients needed to whip up a quick, versatile batter.
Everyone loves pancakes and waffles, right? This ingenious mix takes the guesswork out of making the most delicious tender, fluffy, golden, grain free pancakes and waffles you've ever had the pleasure of enjoying. Prepare to be amazed by the nice texture and incredible flavor!
This mix is tested and confirmed gluten free in our dedicated facility; does not include xanthan gum.
Gluten Free: This gluten free product was handled exclusively in our dedicated gluten free facility and tested for gluten free integrity in our quality control laboratory using an ELISA Gluten Assay test.
Kosher: As a continued commitment to the quality of the products we make and sell, all of Bob's Red Mill products are certified Kosher by OK Kosher Certification of Brooklyn, New York.
Vegan: All Bob's Red Mill products are vegetarian. This product is also vegan, meaning it does not include eggs, dairy or honey.
Paleo: We offer many wholesome ingredients that are favored by folks who follow a paleo, primal or other grain-free diet, including nuts flours, starches, whole nuts, and seeds.
Non-GMO: All Bob's Red Mill products are made without the use of bioengineering, using ingredients grown from identity preserved seeds. We are committed to sourcing ingredients that are made without the use of modern biotechnology.
Ingredients: Almond Flour, Arrowroot Starch, Organic Coconut Flour, Organic Coconut Sugar, Sea Salt, Cream of Tartar, Baking Soda. May contain: Tree Nuts. Made in a facility that uses: Tree Nuts, Soy.