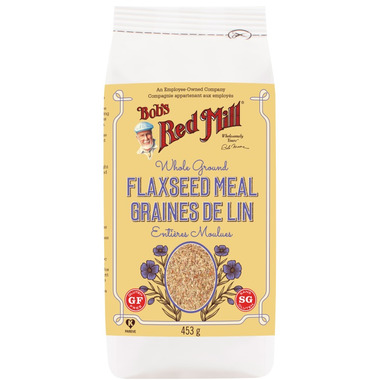 Description
Although flaxseed meal contains all sorts of healthy components, it owes its primary healthy reputation to three of them: omega-3 essential fatty acids, lignans and fiber. Omega-3 essential fatty acids are "good" fats that have been shown to have heart-healthy effects. Each tablespoon of ground flaxseed contains about 1.8 grams of plant omega-3s. Lignans have both plant estrogen and antioxidant qualities. Flaxseed contains 75 to 80 times more lignans than other plant foods. Flaxseed Meal is high in dietary fiber containing both the soluble and insoluble types. It's also a powerful natural cholesterol controller. Bob's Red Mill Flaxseed Meal is freshly milled to preserve the natural oils and nutrients
.

Ground flaxseed meal is notable for its nutritional kick in baked goods. Try making gluten free donuts with peanut butter frosting with this recipe on our blog, The Well!

Add flaxseed meal to bread, pancakes, muffins, bars, cookies and other recipes for extra nutrition and a nutty flavour. Replace oil or shortening in a recipe with ground flaxseed. Substitute flaxseed at a 3:1 ratio for best results. Use flaxseed meal as an egg replacer in recipes for muffins, cakes, cookies, and pancakes. Use one tablespoon of flaxseed meal and 3 tablespoons of liquid to replace each egg called for in the recipe. Reduce the flour in a recipe by up to 25 percent and replace it with ground flaxseed.
Features:
All Natural
Kosher
Gluten Free
Ingredients:
Ground Whole Flaxseeds.
Highlights