Botanica Kids Cold and Flu
Kids Cold and Flu Treatment: Alcohol Free
50mL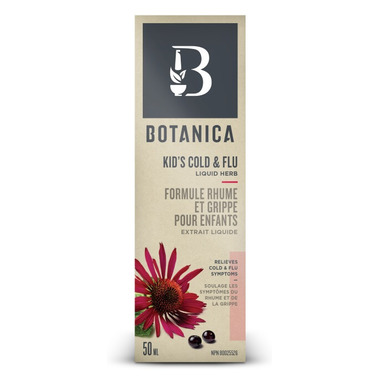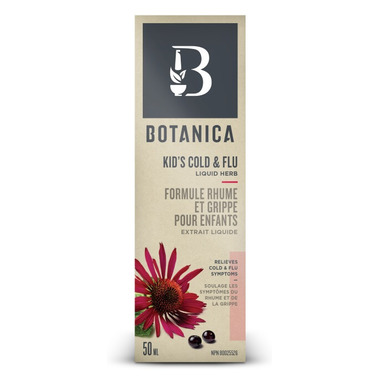 Botanica Kids Cold and Flu
Kids Cold and Flu Treatment: Alcohol Free
50mL

Botanica Kids Cold and Flu uses a formula that is indicated for acute onset viral or bacterial conditions such as colds, influenza, otitis media, sinus infections and mild upper respiratory tract infections.
Soy Free. Vegetarian.

Directions:
20-30 drops (1-1.5 mL) taken 4 times per day.

Ingredients:
Wildcrafted Echinacea root glycerite (Echinacea angustifolia), Elderberry glycerite (Sambucus nigra var. canadensis), and Lemon Balm herb glycerite (Melissa officinalis).Non-medicinal ingredients: Vegetable glycerine, distilled water, natural orange flavouring.

Caution:
Consult a health care practitioner prior to use. Store away from children. Do not use if seal is broken.