Bounce 100% Natural Protein Balls Coconut Macadamia Protein Bliss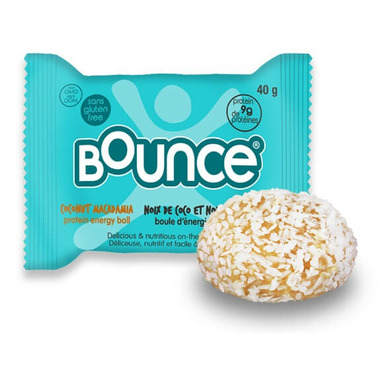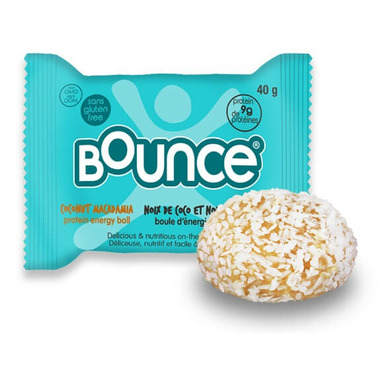 Bounce 100% Natural Protein Balls Coconut Macadamia Protein Bliss
It's somehow hard to believe that something this tasty can be so good for you. A delicious combination of coconut, macadamias, cashews, organic agave syrup and whey protein, the Coconut Macadamia Protein Energy Ball is a great source of high-quality protein that's easily assimilated by the body. It's also high in fibre. The perfect snack!
Features:

Gluten free
Wheat free
GM free
Nothing artificial
4g fibre
9g protein
Suitable for vegetarians
Kosher
Used for thousands of years as hard-wearing beach attire, the coconut looks good, makes a great horse-impersonating musical instrument and is our hero ingredient in this Ball.
With 9g of quality whey protein and high fibre content, it will satisfy your hunger pangs and will give you more than your day's requirement of the antioxidant vitamin E whilst you're at it.

High Protein:
- Contributes to growth and/or the maintenance of muscle mass
- Contributes to the maintenance of normal bones
High FibreHigh in Vitamin E:
- Contributes to the protection of cells from oxidative stress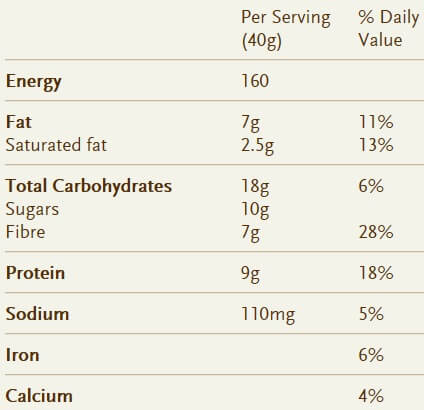 Ingredients: ORGANIC AGAVE SYRUP, CASHEWS, INULIN (DIETARY FIBRE), WHEY PROTEIN ISOLATE, COCONUT, WHEY PROTEIN CONCENTRATE, RICE BRAN, BROWN RICE FLOUR, MACADAMIA NUTS, GUAR GUM, TAPIOCA STARCH, NATURAL FLAVOURS, WHEY PROTEIN HYDROLYSATE, VANILLA EXTRACT, SEA SALT, MIXED TOCOPHEROLS (NATURAL VITAMIN E), SESAME SEEDS, CALCIUM CARBONATE, SUNFLOWER LECITHIN
Contains: Cashews, Milk, Macadamia Nuts, Sesame Seeds.
We take great care, but our facility also makes other products that contain Peanuts, Tree Nuts and Soy.f cells from oxidative stress