BPI Sports Best PRE Apple Pear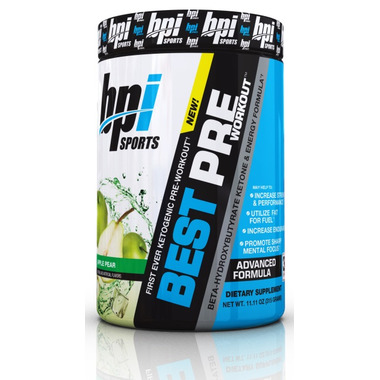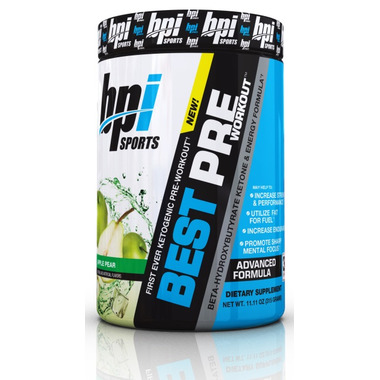 BPI Sports Best PRE Apple Pear
Best Pre Workout helps transition the body from using glucose for fuel to burning fat for fuel. It contains both medium chain triglycerides (MCTs) and beta-hydroxybutrate (BHB) salts to help accelerate the process of burning fat for fuel and providing you with more energy. Best Pre Workout doesn't just stop there. BPI Sports also added several key performance-boosting ingredients to help elevate your energy, focus, hydration and muscle strength. You can now get more out of your workouts on less fuel and still perform your best! If you're following a ketogenic or low carb diet and you're looking to kick the body into a fat burning machine, look no further than Best Pre Workout.

Features:
The first ever ketogenic formula
Energy and focus
Accelerated weight loss
Muscle building
Performance
Dosage:
Take one (1) serving (1 scoop) approximately 15-30 minutes prior to training, blended into 8 ounces of cold water or beverage, or as suggested by a qualified healthcare practitioner.
Caution:
Not intended for use by persons under age 18. Do not exceed recommended dose. Get the consent of a licensed physician before using this product, especially if you are taking medication, have a medical condition, you are pregnant, nursing or thinking about becoming pregnant. KEEP THIS PRODUCT AND ALL SUPPLEMENTS OUT OF THE REACH OF CHILDREN. Caffeine warning: Do not consume caffeine, or combine with synephrine, including but not limited to coffee, tea, soda and other dietary supplements or medications containing phenylephrine or caffeine. Too much caffeine may cause nervousness, irritability, sleeplessness, and occasionally rapid heartbeat. Discontinue use if you experience dizziness, severe headache, rapid heartbeat or shortness of breath.