Bravado Designs
Bravado Designs Clip and Pump Hands-Free Nursing Bra Accessory Black
Bravado Designs
Bravado Designs Clip and Pump Hands-Free Nursing Bra Accessory Black
Sizes S-XL
Bravado Designs Clip and Pump Hands-Free Nursing Bra Accessory Black
is rated out of
5
by
25
.
---
Description
Clip and Pump™ combines pumping discretion with ease of use, never seen before in this category. Simply attach the patent pending Clip and Pump™ to Bravado 'B' nursing clips. Moms keep their bra and top on! The figure 8 opening allows for easy breast shield insertion and removal. No crying over spilled milk!
Features:
Adjustable 4-row hook and eye closure at back
Patent pending figure 8 opening engineered for easy breast shield insertion and removal – no need to detach breast shield from bottle
This product has been tested and is certified in accordance with Oeko-Tex® Standard 100 requirements, which ensures products are free from harmful substances.
Discreet, no need to remove your top or nursing bra
Super soft, breathable cotton modal fabric blend
Wide, stretchy and comfortable bottom band with debossed Bravado 'B'logo
Option to pump on one side and breastfeed on the other
Designed to attach securely to your Bravado Designs nursing bra's B-clips
Note: nursing bra and breast pump not included.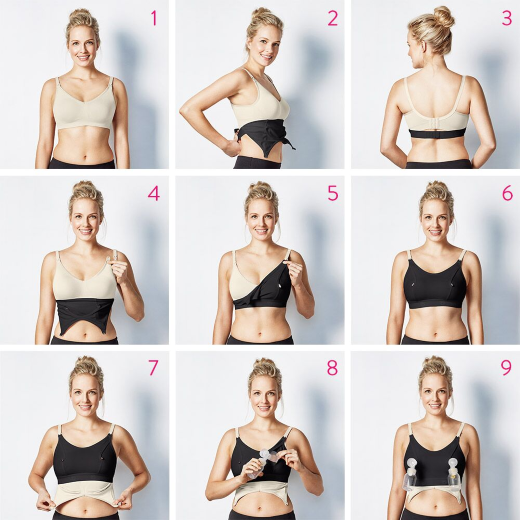 Play the Bravado Designs Clip and Pump Hands-Free Nursing Bra Accessory video on Youtube
Highlights

Shipping & Returns
Rated

2

out of

5
by
Caitlin C.
from
had high hopes but this
had high hopes but this doesn't work for me at all. I'm an exclusive pumper since my NICU baby couldn't latch and going on month four have been constantly searching for things to make my pumping journey easier. I first got the medium which matched the size guide but it was incredibly tight. I sized up to a large even though that's way big according to the size chart and it's still so tight it makes my flanges dig into me. I can't describe how tight it is, it would honestly give me concerns about getting clogs. I love their hands free pumping bra (I'm a M-FC for that one) and was hoping this would be a similar style that could help convert the nursing bras I have that I can't use. Looks like I'll just order a second one of their hands free pumping bras instead!
Date published: 2021-03-08
Rated

4

out of

5
by
UrbanToronto
from
Hands free-it works!
Bought this a month ago. It's a little cumbersome me to put on all the time as you have to undo the one bra and put this one overtop - but once you have it on, it does work! Giving you time to send texts, reply to emails, or even eat while expressing! Sometimes you do have to play with the positioning of the pump to ensure a solid latch and suction. Overall I would recommend. Also, this bra works for non-Bravado bras as well (I tried is with the Motherhood maternity bra.)
Date published: 2020-04-18
Rated

5

out of

5
by
Lesley M.
from
Love it
I love this pumping bra option! It's very comfortable and convenient because you don't have to change bras. It works well with my Bravado nursing bras as well as nursing tank tops I purchased elsewhere. It is easy to use and I like the figure eight shaped openings because you can put the pump flanges in and take them out from the outside. I much prefer using this to the Medela bustier.
Date published: 2021-04-28
Rated

4

out of

5
by
Jessica A.
from
I have 2 other bras
I have 2 other bras in medium and they fit beautifully, but for some reason the medium in this is snug in the band. Still useable but just a little tight feeling which I dislike but love the overall hands free functionality. Would size up next time, but wonder if it's a one off since my other two nursing bras in medium are great.
Date published: 2021-05-07
Rated

3

out of

5
by
Ariane M.
from
Not for all day
Not for my use unfortunately. I bought it to use on my original nursing bra for pumping and I wanted to keep it on underneath my clothes all day. The double layer of elastics at the abdomen makes it too tight. I ended up returning the product. The original pumping and nursing bra is better for my use.
Date published: 2021-04-18
Rated

4

out of

5
by
V
from
Love it
This bra does the trick for easy, hands-free pumping. Important to note that it hooks on to a nursing bra or tank that you already own - it doesn't come with it's own straps. It hooks onto any standard nursing tank or bra - I have a cheap one from H&M and it was completely compatible.
Date published: 2021-07-04
Rated

4

out of

5
by
Lindsay S.
from
Happy with the accessory but
Happy with the accessory but if you have the pumping bra from bravado buy one size up for the clip accessory. Smaller fit and it is also a bit awkward as the holes for your nipples/flanges are quite close together. If you have 'wayward' nipples like myself it is a tad awkward to setup.
Date published: 2021-04-10
Rated

2

out of

5
by
Jessica C.
from
Fits extremely small
I have multiple Bravado bras that I absolutely love. I bought this one in the same size as my others and couldn't even get it on. It runs extremely small in comparison to the other nursing bras and I ultimately had to return it. I recommend ordering up multiple sizes.
Date published: 2021-05-22