Brica On-the-Go Travel Accessory Set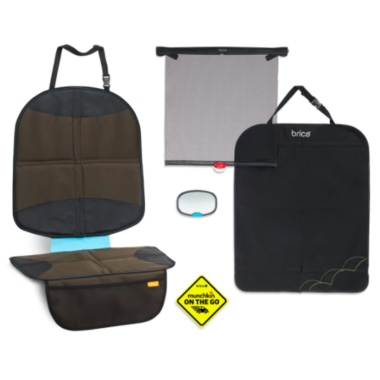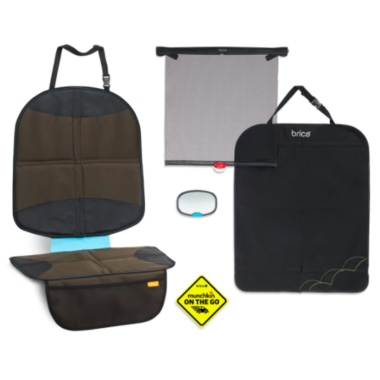 Brica On-the-Go Travel Accessory Set
Car trips are essential with kids, whether it's just down the street to the store or cross-country, the Brica® Munchkin On the Go™ Travel Accessory Set has all your essentials.
The Seat Guardian™ helps protect your car's upholstery from compression damage from child's car seats while the Grime Guard™ fabric helps protect seats against dirt and moisture --plus, our Xtra-grip™ traction pads help prevent any slipping.
The Deluxe Kick Mat™ is essential once your toddler moves to forward facing for protecting the back of your seats from inevitable kicks with dirty shoes!
The DualSight™ Mirror and Sun Safety™ Roller shade will easily grow with your baby offering safe and convenient ways to view and protect your child.
And last but not least, the magnetic Munchkin on the Go™ safety sign is a must for any traveling parent! Let's travel together!
Features:
Travel accessory set includes: Complete Seat Protector, SafeTemp™ Cling Shade, 2-in-1 Auto Mirror, and Baby On the Go safety sign
Complete Seat Protector is a durable and crash-tested seat cover that protects car upholstery against dirt and features Xtra-Grip™ traction pads to help prevent slip
SafeTemp™ Cling Shade is removable and reusble, helps block UVA/UVB rays, has a White Hot® indicator that turns white when the car is too hot and is extra-large in size to fit most cars
2-in-1 Auto Mirror allows you to view a front or rear-facing child and has SecureGrip™ suction cups and visor clips for attachment options
SafeFit® Baby on the Go safety sign is an easy to move magnetic sign with a weather-resistant, reflective surface

This set includes:
(1) Seat Guardian™, (1) Sun Safety™ Roller Shade, (1) Deluxe Kick Mat™, (1) DualSight™ Mirror, and a Munchkin On the Go™ safety sign.