Brondell FreshSpa Dual Temperature Bidet Attachment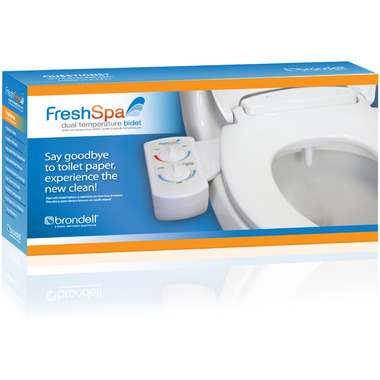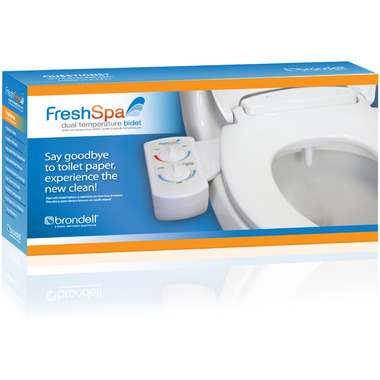 Brondell FreshSpa Dual Temperature Bidet Attachment
Say goodbye to toilet paper and experience the new clean!
The Brondell FreshSpa dual temperature bidet toilet attachment is a simple and inexpensive way to retrofit your existing toilet into a hygienic bidet. Made of durable high quality components and backed by Brondell's standard warranty, the FreshSpa is a quality choice for bidet attachments. Why go back to dry irritating toilet paper or expensive baby wipes when you can use the Freshspa!
The FreshSpa dual temperature bidet provides personalized wash settings for maximum comfort. The easy to use controls allow for adjustable water temperature and adjustable water pressure – from a gentle wash to a concentrated stream while the wash nozzle has 3 separate angled positions ensuring accurate coverage for all types of users.
The FreshSpa dual temperature bidet is a snap to install – usually requiring 20 minutes or less. The Freshspa is compatible with all standard 2 piece toilet fixtures and even fits many contoured one piece toilets. The FreshSpa is manufactured with high quality ABS plastic and has a full body panel making it simple to clean and maintain. The wash wands also have a self cleaning function, which is utilized with the easy to use controls any time you need it.
Features:
Hygienic retractable nozzle
Self cleaning nozzle feature
Adjustable temperature bidet wash – can be hooked up to hot & cold connections
Nozzle positioning (3 settings)
Adjustable water pressure
All brass internal valve (the competition's are plastic)
All metal T-valves (the competition's are plastic)
High quality braided PVC hose for cold water connection
Brass pressure connector for hot water connection
Anti-bacterial ABS material with full body panel
Backflow prevention valve
No electricity or batteries required
Easy installation and adjustable toilet fit
All accessories included for standard installation
1 year warranty from Brondell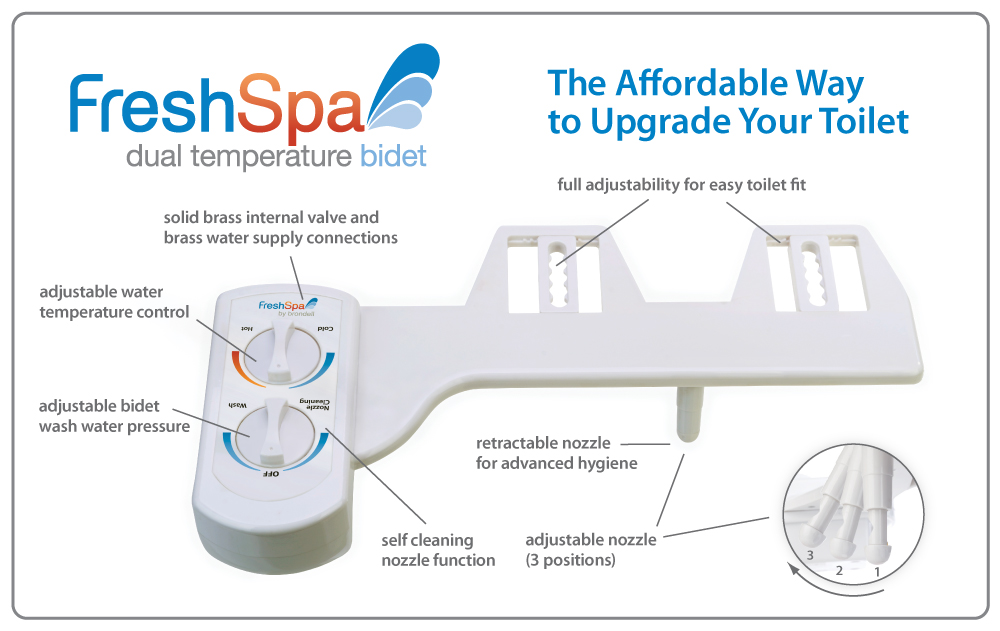 What's included in the box?
FreshSpa dual temperature bidet toilet attachment
Two metal T-valve connectors (3/8" & 7/8")
Braided flexible PVC cold water bidet hose
6' Flex tubing for hot water connection
Rubber O-rings for all metal connections
Owner's manual with installation instructions
We're sorry, this item is not eligible for Free Samples.